Have you tried going somewhere with your whole family including your special child?
I sure did, with my son who was only three years old then. He is not special but being very young of course has its own challenges and it was our first international travel as a family.
Later in 2016, we traveled again across the globe, this time with my sister who had 3 young kids and one of them is special plus my son who was already eleven that time, but still a kid especially if he is with his young cousins.
During that trip, we had a problem with our checked-in luggage at the lay over airport where we stayed for about 8 hours overnight. Our spouses were not with us and we had to check out our big boxes and travel bags and check in them again early the next morning for our next flight.
We had to contact a friend from that place which took awhile because they were out to someplace, but of course, they helped us and took our luggage to their place and brought them to the airport again the following morning.
Because we knew that we were staying overnight at that place and because we had kids along, I booked for a hotel close to the airport so we could comfortably sleep and maybe let the kids go for a swim at their pool before bedtime.
Lo and behold because of that problem with our luggage, we were able to stay in our hotel for only about 3 hours and it was already midnight when we checked in. Of course, the kids were so disappointed and my sister and I and were so tired already that we just hit the bed and slept for the remaining 3 hours.
From that experience, we learned valuable lessons, therefore I have some suggestions on how to travel with  family including your special child with less stress.
This post may contain affiliate links. Click here to read the full affiliate disclosure. 
1. Plan ahead of time
One year to six months before travel, look for the place where you want to go. Research where you can stay and find out what amenities they have so you can plan on the activities that you can do to enjoy. Remember you are traveling to have fun or to visit family and friends.
Ask time off from work before buying tickets. Be sure that your supervisor allows you to have this vacation or if you are self-employed, plan so your work is free during that time or you have accomplished what needs to be done so you don't have to think of work when you are on vacay.
Ask permission from the school and teachers of your child if your vacay falls on schooldays; tell them the date, how long is the absence from class and if they have exams to give before the trip or homework that they can let your child bring so he will not miss a lot.
Buy your two-way plane tickets 4-6 months in advance so they are paid off when it's time for you to leave. You can also buy tickets that are lower in price when you book in advance. Again be sure that when you buy, you are sure of the date because re-booking will cause you to lose more money.
If you have 1 or more layovers, be sure to look into connecting flights with less than 4 hours layover, otherwise, you will have to check out your luggage and check in again at the next flight. That's what happened to us. A hard lesson learned! To be sure, when you check in at your local airport, ask if your checked in luggage are to be picked up in your final destination.
2. Make a checklist
What to do before the trip– check if the passports are updated or if about to expire, apply for a renewal if needed, ask permission from work and school, buy plane or train tickets in advance and book accommodations.
What to prepare– your luggage need to be ready at least a month to two weeks before the trip to minimize forgetting things. Do you need to buy new luggage in case the ones that you have are old and outdated?
What to buy for the trip- Do you need to buy gifts for families or friends that you will visit in this trip? Make a checklist of the people or the families that you need to give to. Or do you need to buy new clothes, swimwear, toiletries, etc?
What to bring for the trip- clothes, toiletries, gifts for friends and families if meeting them, swimming attire, lightweight stroller for young or special kids. This is very important, so everything that you need will be in your luggage.
Where to go – visit museums, go to theme parks, like Disney parks, go to resorts. Encourage the older kids to research where they want to go including the addresses, trip plans, tickets, etc. If you can book in advance those tickets, it's really encouraged so you won't miss those shows that you want to watch.
Final checklist a few days before the trip-things or essentials that need to be put to your luggage or personal bag at the last minute, so you won't forget, like passports, tickets, toiletries, cellphones, etc.
3. Bring stuff to make the plane ride fun and easy
Head pillows are really helpful so you can sleep well during travel especially if you are having a long trip.
Snacks- Kids get hungry easily so bring food so they won't get so fuzzy. Grab easy to swallow food such as yogurt or bananas for those who have chewing or swallowing issues.
Milk for the younger kids, especially if they are still bottle feeding or even in sippy cups and still dependent on milk for their daily sustenance.
Books and art materials like coloring books- to keep your kids busy so they won't get bored.
Sweater and socks– needed if the temperature might become too cold
Favorite toy– a sensory toy would help your special child feel relaxed throughout the trip
Weighted blanket, if your special child has one, or plan to buy to help your child's meltdowns or to just make him relax most of the time.
4. Don't forget the lightweight stroller
If you have young kids or your special kid is younger and gets easily tired with long walks or is still unable to walk, a lightweight stroller is a must for those long walks in the airport and in the parks or shopping malls.
Some strollers even have pockets or trays where you can put your stuff  and the baby's bag so it's really a must!
5. Expect some tantrums or meltdowns and be ready
Bring your patience and lots of love during this trip.
Kids are kids and especially if they have special needs, tantrums and meltdowns are  part of the package. Make them as comfortable as possible and watch out for signs so you can be ready and support your child the best that you can.
Avoid crowds and too much noise because these can trigger attacks. Ear plugs could be of help for big noises and eye patch for bright lights. Find some place with open space, even in parks, so your child will not be overwhelmed.
Include rest in your activities. Do not rush to accomplish a lot in a day. This way, your special child and the whole family will enjoy more if you feel rested and with enough enthusiasm for the next adventure!
6. Pack light and early
It's so hard to lift up a heavy load or bag.
I remember during that incident in the airport, we had lots of boxes of 50 pounds more or less and because we had no adult males in the group, my sister and I had to lift those boxes and travel bags by ourselves.
Just bring the essentials and if you can buy the other stuff, like toiletries or gifts in the place where you're going, do it so your baggage are not as heavy.
Your back, arms and shoulders will thank you for those light load.
Start packing two weeks before the trip. That way, you will not forget the things that you need to bring. Even a month if you have lots to pack, like including gifts for family.
Make use of your checklist and cross out the things that are already in the suitcases. I usually have color coding where I place which stuff so I can always find where I put everything.
Early packing  is really important because if you need to buy some more necessities for the trip, there is ample time to complete them.
7. Put important stuff in the carry on or in your personal bag
Keep one set of clothes for every family member including underwear and a towel in the carry on, so if there's delay in the plane's schedule, you are ready if you need to change in the airport or wherever you will get stucked.
Also, keep your jewelries and important papers or documents, cameras, cellphones, laptops, in your carry on or personal bag so they won't get lost or stolen in the check in bags.
If you have a baby or your special child with a certain food or is still drinking milk, be sure to keep their milk or specific food in a personal bag. Or their favorite snacks.
Don't forget your printed itinerary and plane or train or boat tickets plus your passports in your purse so they are easy to grab when checking in.
Your credit cards, ATM cards or cash should be safely tucked in your purse as well.
8. Instruct the older kids to be responsible
If you have 2-3 kids in your group, let the older kids be responsible with the younger ones.
Of course, when you are walking in the airport or in a large park for example, it is easy to loose some of your kids if they wander around or you walk faster than them.
So, tell the older sibling or cousin to watch out for the younger kin and they need to be together at all times and follow the lead of the parent wherever they are going.
9. Backpacks for every kid
Keep their favorite toys and books or art materials in their backpacks so it is easy to grab them when they need them. Make it personal for them and include their phones or iPad if they have.
You can also put here a shirt and underwear and toiletries.
There will be less stress if they are responsible for their stuff. 
10. Buddy system
This is really helpful if you are a family of 4 or more, especially if there is extended family in the group.
Assign every young member to an older one and tell them to be together at all times and be responsible with one another.
Everybody is accountable with somebody so nobody will be left behind.
11. GPS tracking unit
If traveling by land around the place, like if you have a hired car, a GPS tracking unit is really essential.
This way, you know where you will be going instead of worry if you will get lost or not.
This will also save time so you can arrive at your destination faster and not miss any schedule of events.
12. Make a picture or mental plan of what is going to happen in this trip
Imagine yourselves leaving the house and think of the time that you're supposed to arrive at the airport or train station to avoid delays or missing your schedules. Allot 2 hours allowance to be in the airport or the train station to allow enough time to check in.
At the airport or train station- what you will need to check in ( passports, tickets or itineraries- are they in your purse? )
Arriving at the airport destination or your destination place. Have you booked your transportation to your hotel or resort or are there families or friends who are picking you up? If so, do you have their phone numbers with you in case you need to call them from the airport?
Daily activities-list of places to visit and timetable of these activities
Rest days or hours should be part of your trip so your bodies have time to recover from fatigue.
Regular ( or almost ) sleeping hours so immunity is not compromised. You will enjoy more if you will not get sick.
Visit to families or friends if this is part of your trip and what to give them. Spending time with loved ones during a trip is healthy and fun.
Returning home– again the itinerary, plane tickets and the passports, before leaving the hotel or where you stayed, double check if you have them in your purse.
Enjoy and have fun!
Vacations are always fun and exciting but oftentimes, coupled with stress, especially if no proper planning is in place. Therefore, plan in advance so your trip will be smooth with fewer kinks.
Include your older kids when organizing the trip, so they know where to go, what to expect, how to be responsible for their younger siblings and how to behave properly.
Sometimes, they also want to decide where to go and what activities they want to do.
Make your trip fun and educational. If it's a new place that you're visiting, go to their museums, libraries, or tourist information areas.
If you can meet local people and learn from them about their culture, food, and lifestyle, that's a very good way to learn new things about them.
Remember, you can go on vacations once or twice a year only, unless you have lots of money, so make it really worth remembering, with less stress but with more fun.
Collect memories with your families including your special child and when you look back later through your pictures or videos, your children will appreciate all the beautiful memories that you have shared.
Have a fun holiday!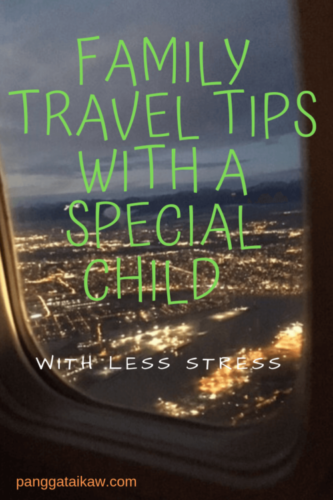 Have you booked for your family vacation this summer? Where do you plan to go? Share your destination with us plus the activities that you plan to do.