It's different when you just read about something, specifically about the signs and symptoms of Down syndrome and autism.
Looking at pictures or images of people with Down syndrome, they are so typical.
Even observing them from a distance, you will know that they are kids with Down syndrome.
And of course, I have lived with some family members, like Pangga, my sister who sadly passed away a few years back, and whom this website is dedicated to, and my nephew Mark, whom I see every year when we go on vacation to my home place.
But with autism, I haven't really been with them up close. I've just read about them or heard some friends describe their autistic kids.
I don't really know how they behave in person, until I met Nathan again and stayed with his family for about a week this summer.
It was a really special encounter with Nathan, being with him up close and personal for a week was something. Seeing him, I missed Pangga so much more, but being with Nathan, it was always fun and it's like being a kid again with freshness every day, no worries, just pure awesome joy.
We planned on our vacation to be with Nathan's family ( his mom is my sister ) and to see their place and go to some exciting adventure places.
We went to Universal Studios in Florida!
I will not discuss about Down syndrome here because they don't really have behavior issues and just looking at their physical appearance, as I have mentioned above, you will know who they are.
I'd like to share with you more about learning the symptoms of an autistic child that I have observed in Nathan for the one week that we were together.
I really do honor my sister and her husband and their older daughter for being so patient with Nathan and so accepting of his inadequacies.
Related posts:
Big sister, little brother…. he has Down Syndrome and Autism
Down Syndrome with Autism-my Son has both and He is a Gift from God
About Special Needs Fathers ( Meet three awesome dads! )
First impressions
On our arrival, we were treated to a sumptuous dinner and some entertainment and dancing at a local restaurant. We just enjoyed watching other people gyrate to music though, because we were tired from our trip.
Nathan sat at the other end of the table beside my son and his other cousins. We observed that he always sat so close with them, like he was so welcoming and happy to be with them. He even put his arms over my son's shoulders, like they are good old friends. This is actually the first time that they have this chance to be close together. And mine, too.
We first saw Nathan about two years ago at the wedding reception of my cousin. And we were just with him for maybe an hour or so only, not having a chance to really bond with him.
This time, we lived in their house and in a rented unit in a resort in another town.
I was able to observe him from the time he woke up until he fell asleep.
I know kids in the spectrum don't really socialize well. They don't have eye contact and I have proven this, never did I see Nate having eye contact with anybody.
When you call his name, he never looks directly at you; it seems like he is ignoring you all the time. But he follows simple instructions and I will talk about this later.
Nathan cannot sleep
In the morning after our first night in their house, my son complained that he was able to sleep at 5:00 AM already. He slept on the same room as Nate with another cousin.
When asked why, he said Nathan didn't sleep and was having " seizures," in his bed.
Of course they were not real seizures lol! Apparently, Nathan couldn't sleep, kept on rocking in his bed all night, and only able to sleep early in the morning already.
Nathan's parents said if he sleeps during the day, it's hard for him to sleep during the night and he is restless.
It is said that sleep disorders are common in autism and would occur in 40-80%of children with ASD. These children could have the following:
A hard time falling asleep

Disturbed and intermittent sleep

Poor sleep quality

Irregular sleep routines

Waking up too early or in the middle of the night
There are several theories as to the causes of sleep disorders in children with autism, among them are the following:
1. Social cues, like seeing other people getting ready to go to sleep. Autistic kids have struggles with communication, so they may misinterpret or misunderstand these cues.
2. The hormone, melatonin, which regulates the normal sleep–wake cycle, are found in some studies of kids with autism to be higher during daytime than nighttime, thus they sleep more during daytime. Maybe this is true for Nathan.
3. Increased sensitivity to outside stimuli, such as touch or sound, so they are easily awakened even by a parent opening their bedroom door to check on them.
4. Anxiety, which is found to be quite common for kids with autism, can also affect their sleep pattern.
Nate and his stims
Every day, during our stay with Nathan's family, I have observed his stimming behaviors. He does rocking almost daily, with no specific time, anywhere. He would rock when he is sitting in their sofa or even inside the car while traveling.
One time when we were swimming, I also noticed that he kept on circling or going around a part of the pool which had water falling from above. He ignored my request to go up the slide, instead he just kept on circling around the little water falls. He never stopped until he came out of the pool.
What is stimming or stims? It is short for self-stimulatory behavior, and is the repetition of physical movements, like hand flapping, excessive or hard blinking, head banging, snapping fingers, spinning objects, or even repetitive noises or words, and for Nathan it was always body rocking with noises, which happened that first night at their house which annoyed his cousins. My son described it as "seizures." lol!
Stimming could lead to self-injury such as in head banging or hand biting, so fidget toys, fidget spinners and puzzles are encouraged for safe stimming.
It is said that autistics stim to meet a need, thus encouraging them to continue with their stims and not discourage them will help them to become more confident and will help them to be more regulated to avoid autistic burn out and meltdowns.
Behavioral therapists however, say stimming should be stopped especially if they are hurting themselves or others, like head banging and biting.
Stimming may look or feel very annoying to other people, like to my son that night when Nathan couldn't sleep and just kept on rocking in his bed, but to these autistic kids, they serve real purpose, so we have to be open -minded about them.
Nathan loves the water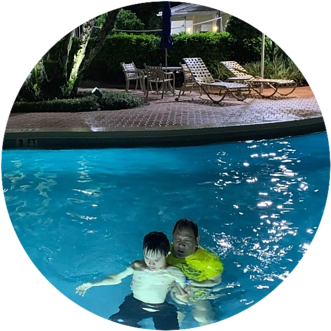 His cousins went swimming with him in the resort pool twice. Nathan was with his dad for the first one and with his sister and I, the second time.
He was so happy and excited dipping into the pool and loved to walk in the water. He didn't know how to swim, so we were always on the look out for him, in case he goes to the deep end.
One young boy came close to him and started talking to him. Nathan's dad and I appreciated the efforts of this young boy to communicate with Nathan, but of course Nate didn't reciprocate it because, like the typical autistic child, he cannot engage in conversations, plus he is still non-verbal.
Getting him out of the water was quite a struggle, he would never get out of the pool, if he had the choice, lol!
Nathan's way of communication
Ever since he started to regress in his speech, Nathan has only around ten words at present, according to his mom. Personally, I heard him utter only two words, "outside," and "mas," the latter being the Spanish word for "more". He learned this from his Spanish teacher assistant before and if he wants more food, this is his way of communicating.
Other than that, Nathan just makes sounds all the time, sounds like he is complaining.
As mentioned awhile ago, Nate has no eye contact at all. When you call him, he might turn his head towards you after several calls and I observed that he has nystagmus-this is a common sign of Down syndrome.
Love for the riding machines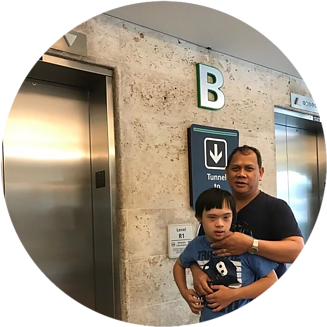 Nathan runs when he sees an elevator or an escalator. He loves riding this so much so that he wants to go in and out of these riding machines.
This was quite challenging for his parents and us, while in the airport when we were going for our plane ride home as well as my sister and her son. His parents would try to pull him ( he is so strong, much stronger than anybody except his dad! ) out of these rides because he loves getting in and out of these.
I guess this is part of his repetitive behavior or circumscribed interests as one of the unique behaviors in autism.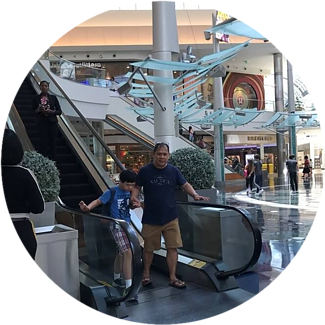 Eating habits
Nathan loves to eat. He sits on the table and feeds himself from a plate of food prepared by his parents. But he cannot sit still. He would feed 3-4 tablespoons one after the other, then go to the sofa and play until somebody calls him to go to the table again.
He has a big appetite and makes noises if he is in the table and there is still no food. Like in a restaurant, his parents bring cookies for him to munch on while they wait for the food to be served.
Autistic kids could have various eating habits such as:
Fussy eating habits – they eat only a limited kind of food and these could be because of sensory sensitivities ( they choose only a specific texture of food ). With Nathan, he prefers smoothies than real fruit.

This could also be because they like routines- same food every time, they may find it hard to try new food or are preoccupied with certain food.

Over eating habits – less common than fussy eating but should be watched out to avoid health problems
Non-food eating habits, called pica, where they would eat hair, coins, dirt or fabric. This could lead to malnutrition, infection, increased levels of toxin, etc. This needs to be addressed ASAP and try to replace non-food items with snacks and praise the child when they choose to eat the snacks.
Nathan's pet snake- his sensory toy
He has a toy snake, his favorite toy for the longest time. He loves to put it in his neck or toss it in the air. He would bite at it sometimes so much so that the tail end is messed up already. Maybe part of his non-food eating habit?
His aunt, my other sister who gave him the green old snake bought a new violet snake supposedly to replace the green worn one. At first, he didn't like it, he held it for a few seconds then threw it away. After a few hours, he tried to compare the two and soon learned to like both of them.
Sensory toys are said to benefit autistic kids because they serve their sensory needs, like being focused on their sensory toy could drown out being overstimulated with outside noise, so they don't have a meltdown.
Incidentally, I never saw Nathan having a meltdown in our one week stay with him and this maybe because he learned how to drown out noises or distractions around him with his snake.
He loves to be tickled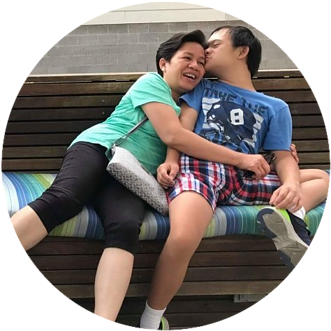 While in the car or at home, I had numerous chances of playing with Nathan. Not that we played with toys, but just sitting close to him and singing with him or just holding his hands or tickling him.
While traveling by car, he loves to watch his favorite movie so he doesn't get bored. Beside him, I always tried to hold his hand and I know that he loved it because aside from non-stop rocking, he smiled from time to time.
I remember, the second time that he swam with his cousins, sister and I at the resort pool, his dad tried to pull him out of the pool earlier than the rest. I tried to help his dad because he did not want to get out of the pool, and his dad said, "Tickle him, " which I did, and true enough he did not fight with us and got out of the pool easily.
Every day is a reason to be happy
That one week with Nathan and his family have made me realize how important family is.
Especially family support for a child with special needs.
Nathan has both Down syndrome and autism and although he is still basically non-verbal and thus, non-communicative, he is loved and taken cared of wholeheartedly by his parents and sister and his extended family.
He might feel left out in a bunch of kids his age, but he has his own world and he is thriving well with his stims and his pet snake.
He has a good appetite and although he might not be able to sleep well sometimes at night, he sleeps during the day if need be.
With Nathan, we all realized that life can really be lived simply with minimal worries for tomorrow.
What is important is the here and now.
See you again sometime, Nathan! Thanks for that week of pure joy and bliss.
And of course, thank you for teaching me about you, thus, learning about the symptoms of an autistic child firsthand.
Have you had a close encounter with an autistic child? How was your experience? We would love to hear from you.