As parents or caregivers of kids with autism, meltdowns could be part of your everyday life. It could be frustrating and overwhelming and you yourselves could be stressed out when these happens. Sometimes, you could be hurt or your kid or anybody close to him and this becomes scary. I'm sure you have tried every possible means to pacify him or to stop his outbursts. Have you tried the therapist-tested and recommended weighted blanket for autism meltdown?
Try this Sleeptight weighted blanket and you will realize that it does help.
PRODUCT
:
Weighted blanket with neck cut out
COLORS
:
Buckskin, navy, and blue waves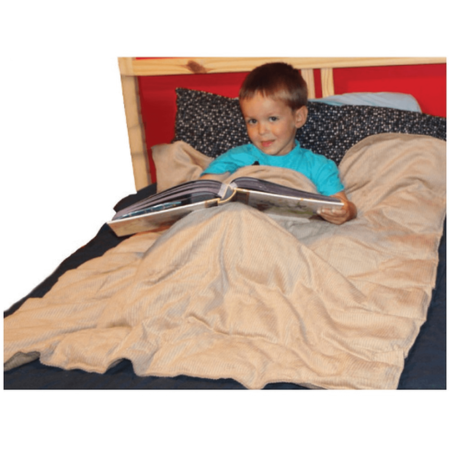 Product  Description
Click for prices here 
| | | | |
| --- | --- | --- | --- |
| Size | Weight        | Dimensions      |     Age  |
| XS |  5 pounds | 32″ x 36 " |   3 yrs |
| Small |  8 pounds | 36″ x 42″ |   3 -5 yrs |
| Medium | 12 pounds | 42″ x 54″ |   6-10 yrs |
| Large | 16 pounds | 54″ x 72″ |   11-15 yrs |
| XL | 25 pounds | 58″ x 80″ |   16 yrs & up |
This post contains affiliate links. Please read the full affiliate disclosure here.
Before going to the weighted blanket review, let's talk about these two important topics for clarification.
Meltdown vs Temper Tantrum
Children with autism, be they high functioning or not, usually can either have a meltdown or temper tantrum.
They are two different things.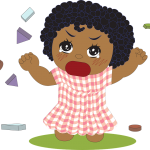 A temper tantrum occurs when the child is denied something that he wants to have or something that he wants to do. It is a bid for attention or control. You will notice that your kid sneaks an odd glance at you or the caregiver to see if it's working.
They may hit you, but not hurt himself. They are still in  control of what is happening. They will usually stop crying when you give in to what they want. This is not the proper way to react as a parent, of course because they will tend to repeat this time and again.
A meltdown on the other hand, which includes a high functioning autism meltdown, is secondary to overstimulation by things such as light, sound, and touch, also called " sensory overload."
Likewise, autistic kids easily get frustrated or anxious with  unexpected turn of events, such as when there is change in their routines.
They cannot express how they feel or understand what is happening;  they have  complete loss of behavioral control, so they scream, destroy property, hurt themselves, become aggressive or become violent to others.
As mentioned earlier, it is sometimes scary and dangerous when this happens. As a parent or caregiver, you need to be calm and approach your child peacefully to dissipate the attack.
Don't put an added stress to your child by panicking. Give him time to de-stress on his own.
Just be supportive, hug him if he allows you. Give him an assurance that it will just go away.
There  are various strategies on how to  calm your autistic child during a meltdown. Of course, this can just stop or be resolved at its own pace, without giving in to something.
It's a storm or an uncontrollable reaction to sensory over stimulation or sudden change in routine, that just needs to blow up and then go  away.
Every autistic child is different.
As a parent and caregiver, you need to discover what usually causes the meltdown. It's a case to case basis. List down what he was doing before a meltdown.
Once you have recognized what usually triggers it, then you can guide him on how to prevent it or walk away from it. This is of course better said than done.
Examples on how to prevent a meltdown includes minimizing  noise in his bedroom or playroom or generally in your home. Avoiding loud music is another  good strategy.
A  Weighted Blanket to Calm a Meltdown
One of the best ways to calm your child during a meltdown is using a weighted blanket.
As the name implies, it is a blanket with some extra weight.
How does it work?  A weighted blanket  provides a deep touch pressure ( DTP ) or distributed weight across the body. 
DTP is equivalent to a hug, a squeeze, or  a massage.
DTP releases serotonin in the body, an important chemical  that brings about calmness and stable mood. It also decreases nervous system activity.
Thus, putting the child under a weighted blanket during a meltdown  will make him calm and relaxed.
Many times the child is so stressed that he does not want you to touch him, so making him slip under a  weighted blanket is the next best option.
Therefore, a weighted blanket is highly recommended  if you have an autistic child.
How Heavy Should a Weighted Blanket be?
First determine your child's weight. Then find or buy the blanket with an average  weight of 20 percent ( range of 15-25 % ) of his weight. This is based on a study of T. Champagne, an occupational therapist on mental health.
BEST to BUY at : National Autism Resources Corp
The Sleeptight Weighted Blanket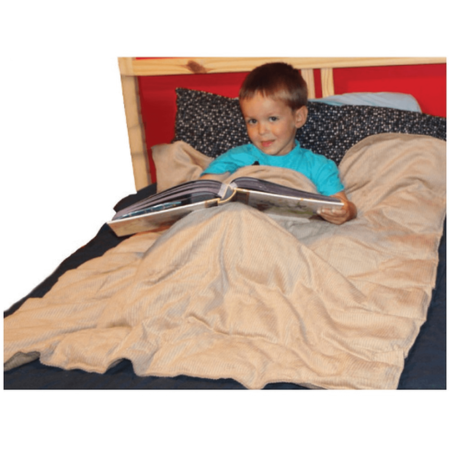 Therapist designed Sleeptight weighted blanket features industrial materials and stitching for several years of use. Choice of correct size for your child depends on his age and weight. The blanket is generally recommended to weigh more or less 20 % of the child's  body weight.  For example, a child who weighs 25 pounds should use a 5 pound blanket.
This blanket is sewn with a curved cut out at the top to fit properly the contour of the shoulders and below the chin. Thus, it provides comfortable deep pressure to chest and shoulders without crowding into  the neck.
Please do not place the blanket over the face to avoid suffocation. 
This Sleeptight weighted blanket is usually made smaller than a regular blanket so that the calming deep pressure is distributed throughout the body and not across the bed, which will not serve its purpose.
Other Uses of a Weighted Blanket
The Sleeptight weighted blanket is also  made for other purposes aside from calming a child during stress.
It is made of soft corduroy fabric to withstand years of use and this soft tactile cover helps the child to have a calming sleep at night.
Compared with other calming products which have limited use during the day only, this Sleeptight weighted blanket can be used all throughout the night or can be removed when your child is already asleep.
It is also useful for kids or even adults who have anxiety problems, insomnia, and attention deficit hyperactivity disorder ( ADHD ).
Be Very Cautious
This blanket provides additional warmth, so please regulate your thermostat so the room temperatures don't become too warm, otherwise, your child might be sweating a lot after a few hours of use and be uncomfortable.
There is also a debate if a weighted blanket is safe for children. Some studies say it is safe for teens and adult, but not for kids.
There were 2 reported deaths on using a weighted blanket. Both happened outside their home. One was on a 9 year old boy with autism , who was put on the blanket for 20 minutes in the classroom and another was a 7-month old infant in the daycare.
I would advise you dear parents to please supervise the use of the weighted blanket so it is not placed over the child's face and observe him always if he is okey. You can remove it when he is asleep already.
When your child is in daycare or in the classroom, always check if the caregivers or teachers use them during his stay and be sure that they know how to use the blanket properly.
Greatly Recommended
Again, if your child is autistic, even if he is a grown-up already, using a weighted blanket is a sure way to calm him during a stress, such as a meltdown.
This will also be very useful when he has problems getting a sleep or being disturbed during sleep.
So, if your child is so stressed that he refuses a hug or a massage, grab his weighted blanket and offer him to relax under it.
It will surely dissipate the anxiety in no time.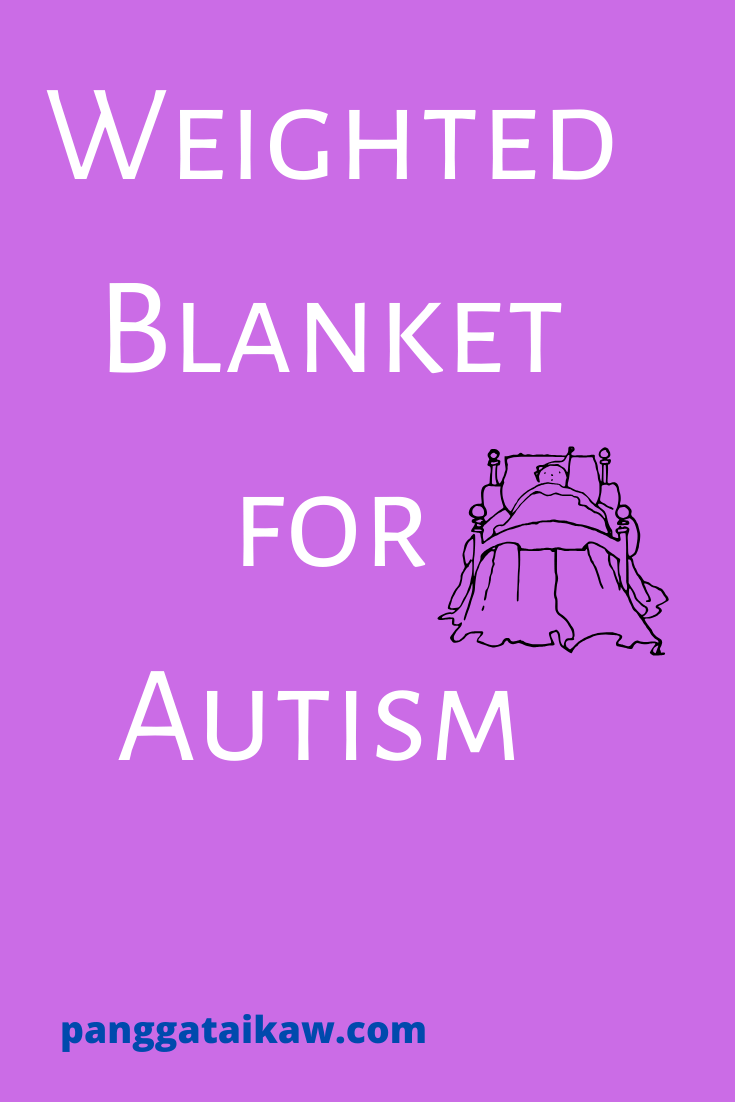 Have you ever used a weighted blanket? Did it help your special child a lot? Please share your experiences with us.

Want to start a website about your hobby or passion? Let Wealthy Affiliate help you!