THE BEGINNINGS
 Pangga ta Ikaw is dedicated to help kids with special needs to develop their fullest potential.
We started this endeavor in 2015 to commemorate the first death anniversary of Roxannie, fondly called " Pangga " by family and friends.
Pangga is my sister with Down syndrome who died at the age of 46.
Pangga in the local dialect means LOVE, and Pangga ta ikaw means " I love you, " which I thought is a  very  appropriate  name for our group.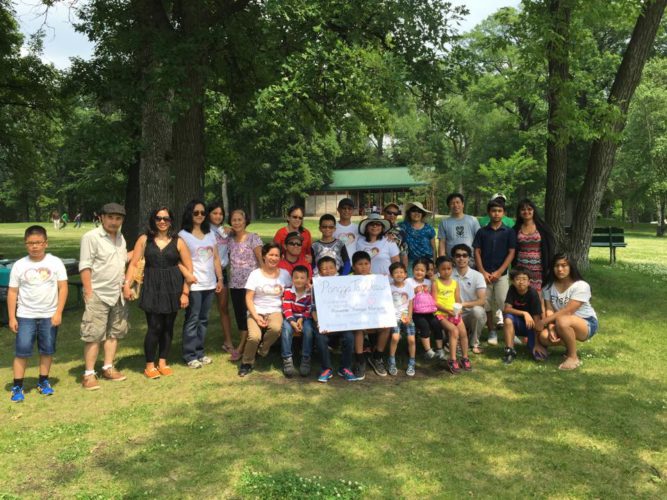 OUR FAMILY IS SPECIAL
My name is Marita, a practicing Pediatrician in the Philippines before I moved to Canada in 2008. I now work as a Clinical Research Assistant in a large university.
I  always have a soft spot for special kids not only because of Pangga, but I also have another special brother, 2 nephews who have  Down  syndrome and another special niece.
They all bring joy to our families and we truly love them and consider them GOD's gifts to us.
When Pangga died, our family was at a great loss, she was the first ever to pass away in our family of 12.
It was doubly hard for me, because I was not able to go back home for her funeral. I terribly miss her up to this day.
Our family decided to donate to the Special Education program of special kids in our town, part of the money that family and friends shared  for her burial expenses.
That started my desire to continue the legacy of providing love and support to kids with special needs in our town back home.
OUR PROJECTS
Initially for two years ( 2015 to 2017 ), we have helped indigent kids in the Special Education program of the Romblon East Central School in Romblon, Philippines with their transportation expenses to and from school.
Most of these kids have to be accompanied by parents who barely could meet their family's needs and lots of them live in far-flung barangays, some even cross the sea to attend school.
From October 2017, we have levelled up with our assistance by starting to build a mini–therapy area aimed at developing the kids' social, motor and sensory skills.
Proud to say that we have gone a long way in building this indoor play area and it's almost done and now painted.
Click here to read the updates!
This website likewise hopes to promote awareness that kids with special needs are part of our society and they are just like us, who need love and acceptance.
Their parents and families for sure truly care for them but the whole community has a role of providing support for them to develop the best that they can be.
I would love to hear your comments and insights on my website and if you could help financially for our projects, it would be much appreciated.
If you click this link, it will direct you to our Go fund Me page for our present project, the mini-therapy area.
We thank you so much for your generosity, which will go a long way in supporting our special kids.
If you have questions about our project and how you can help or anything about the articles in this website, please post your comments below/ after the post or email me at admin@panggataikaw.com.
God bless,
Marita
Connect with us: