Inside: If your family is into summer camping, read on to learn how to prepare for camping with a special child.
It's almost summer!
Well, spring has just started in our place, and sometimes it still feels like winter. There's still snow all around, although most of it has melted.
But, time flies so fast and before we know it, summer is here!
Have you planned already for your summer getaway? My son, who is graduating from high school in June, are planning to go home to our home country, and we are now looking for airfares, which seem to be really expensive. I just hope that we can get some cheaper fares soon.
Our extended family here abroad has gone summer campings in previous years, and hopefully, because the pandemic has somehow been considered a "new normal" and has lifted restrictions, we can again go to summer camp/s this year.
No definite plans yet, but hoping, we will come up with something exciting soon!
How about you? Have you planned already?
Going camping with the whole family will surely be fun!
It might be overwhelming to plan and prepare, but with proper planning, it will not be that stressful.
Let me help you…..
I have researched so you know how to prepare for camping with a special child in tow. 
Of course you're thinking, " Can I really bring my special child with the whole family? " Why not, he may have special needs but he has the right to enjoy and spend time with everybody. This will be a special bonding time for everyone – to relax, unwind, breathe some fresh air and enjoy nature.
Be sure to plan and prepare what to bring so nothing is missed and everybody can just have fun.
I have prepared a checklist to help you with this.
Grab the FREE camping checklist here.
I promise you, with careful planning, it will be a summer escapade galore!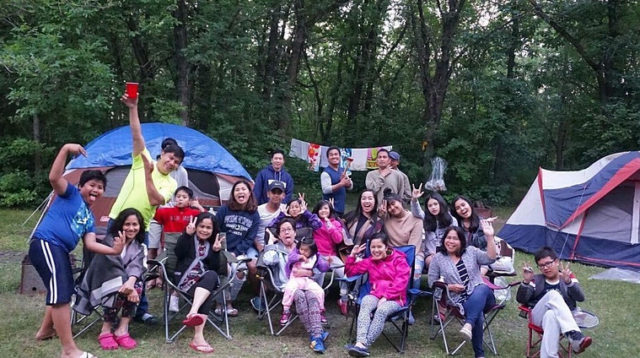 Where to go
Months or weeks in advance, you need to plan where the family wants to go and reserve or book the place.
I assume you are doing this already or soon. Did you want to book a cabin or a tent area? Or are you bringing your camper? Either way, all three are fun places to stay.
Is your site somewhere close, like half an hour ride or maybe up to 2 hours is good. But some families love to go long driving, like a 3-4 hour or more travel, which might be uncomfortable though for the kids, especially your special one.
You can actually make a long trip comfy by breaking it into shorter trips. How do you do that?
Rest in between, like after an hour or two, look for a park with a picnic table or a grocery store with some benches outside where you can rest or maybe eat your snacks or lunch. Don't forget social distancing, if there are other people in the area!
Even a 30-45 minute rest would give everyone a space to relax and a time to stretch and fill the hungry tummy.
Then, off you go again for another ride. Make sure that you let Dad or whoever is driving know that you need to stop every after 1-2 hours of driving to recharge.
Plan your activities and meal preparation
Planning is key to success, comfort, and fun in camping.
If you are camping with your extended family or friends, like what we do all the time, for sure there maybe a minimum of 4-5 families or around 16-25 people.
For a big group like this, it will be surely fun and the most important thing is to decide how you will prepare your meals.
For our group, we usually assign which family prepares this or that meal, so we prepare and cook only once or twice for that weekend get away.
On the first day though, that is on check in day, each family brings packed lunch or dinner, so we don't worry what to eat when we get to the site and we can focus on pitching our tents or preparing for the first night.
That said, you know what food and cooking utensils to bring when you have planned your menu for your assigned day and specific meal. For example, you don't need to bring eggs when you are assigned to prepare dinner on a Saturday.
How about activities in the camp?
Swimming is an all-time favorite for kids, including your special one.
When booking for a camp, always look if the site has a swimming pool or a suitable lake. Be sure to be with your kids at all times during these activities for safety reasons. I'm not sure though if swimming pools are open already due to COVID-19 precautions. If they are, the kids will really have more fun!
Outdoor games like badminton, frisbee or parlor games would be enjoyable as well for the whole family.
Be sure to bring those rackets and shuttlecocks, frisbee flying disks and materials for parlor games like sacks, big hankies, empty bottles, etc.
Watch one of our fun family campings below.
What to bring
It is best to make a list of what to bring so you will not forget anything or at least you will be able to bring the most essential things that you need.
Grab the FREE campsite checklist here.
I remember in one of our tent campings, my husband forgot to bring our sleeping bags, it's good that my brother's family were in their camper with heating, so they let us use their sleeping bags.
Here is a list of what you will need:
1. Shelter and sleeping needs
Tent- make sure that what you have from years before is still usable and clean, otherwise, you have to buy again. Does it fit everybody or do you need an additional tent if everybody will not be accommodated? If you want to purchase a new one,

you can buy at AMAZON by clicking here.

Sleeping mattress or airbed- don't forget to bring the pump to put some air

Sleeping bag – it is usually cold late at night and early morning, so this is really important; suitable for one to 3 -persons depending on the number of family members;

lots of choices

at AMAZON.

Pillows

Extra blankets- the regular ones that you can use at daytime when you want to have a nap or just want to lie down
This post contains affiliate links. Read here the full affiliate disclosure.
2. Cooking and serving materials
Stove

Match or a lighter

Propane

Kettle, frying pan, rice cooker – you have to know what food are you cooking so you know what to bring

Laddle

Chopping board

Disposable platters or plastic ones that you can wash to use again
3. Eating utensils
Disposable plates, spoons and forks, glasses

Serving spoons

Napkins
4. Clean up materials including stuff for bathing and swimming
Towels

Tissue paper

Boxed tissue

Toiletries-including soap, body wash, body scrub or sponge, shampoo, toothbrush and toothpaste, dental floss

Bathing suit

Sunblock

Make-up, lipstick, deodorants

Diapers ( click to buy )

for small kids or even for your non-toilet trained special one
5. Food and Water ( think of your assigned meal plan so you don't miss anything )
Bottled water

Water for cooking in a large container

Rice

Cooler with ice and hot dogs, pre-cooked food

Fruits

Snacks-cookies, chips, nuts

Drinks, including milk for young kids and your special one

Coffee or chocolate for grown-ups

Bread

Travel food in a separate bag for long trips- usually cookies, nuts, including water

Pre-packed lunch or dinner depending on your check-in time so you can concentrate on putting up your tent upon

arrival

Other food- meat, fish, dried food such as beans, eggs, vegetables, spices, salt, marshmallow, etc
6. Clothes
Sweaters, jackets, toque, scarves, mitts- Be prepared for cold nights and on early mornings

Jogging pants- especially because there could be mosquitoes or ticks

Jammies, preferably long-sleeve tops

Socks

Shorts and light-colored or white shirts for daytime use when it's usually hot

Underwears

Caps or hats
7. Other Essentials
Flashlight

Light for the tent and for your dining table

Alcohol or disinfectant ( very essential now for COVID precautions

Sunblock

Insect repellant

Coins- some showers need coins to function

Hanging ropes for wet towels and clothes

Books and board games – reading to your special one can still continue outside or inside your tent or camper

Camera or phone

House keys

Travel diary if you are fond of recording your experiences

CDs to entertain you while traveling for long trips

Slippers

Balls, Badminton sets, freebies

Small toys for your special child

Lightweight stroller for your special kid- very important!
Related post: How to Travel with a Stroller: Ten Best Lightweight Strollers ( for Children with Special Needs ) 
Set up your tent properly
Plan on putting up your tent properly, especially if you have kids, more so, if your special child is with you. You never know how the weather will behave while you're in camp.
It could start really warm but could rain anytime. One time, when we were camping, it rained really hard with strong winds that my husband had to hold our tent from outside so it won't collapse. Good thing, it stopped after an hour and we did not get wet inside. 
What do you do during camping?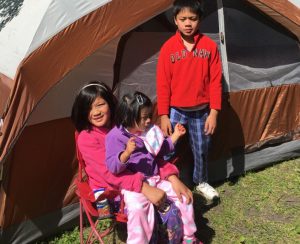 When you have small kids and a special child with you, fun activities need to be planned so they don't get bored.
Activities that kids enjoy are swimming, outdoor sports like biking, ball games, badminton, etc.
Hiking could also be fun if your special child can walk by himself, or you can push him in his stroller if there's a somewhat smooth path.
Or, if he is able, and you don't want to bring his stroller,  let him stroll at the start, then maybe carry him later in your back if he gets tired. Then plan to go back to your tent at this point, otherwise your back will get sore carrying him for a very long walk.
As you progress with your hike, show your special child the plants, flowers, trees, or animals around you and this could be an educational experience for him as well.
Campfire and barbecuing or grilling hot dogs and marshmallows are things that they also love.
This is a special time for families and friends to bond by sharing experiences or jokes around a campfire, or sharing music by singing in a guitar accompaniment, if your family is musically-inclined.
If possible, tell your kids to limit the use of social media ( phones, laptops, DVDs, etc ) and instead encourage them to play active games and interact with family especially siblings and cousins their age.
After the camping, what?
Be sure to ask your older kids to help you out with folding the tent and keeping all the things that you need to bring home.
Make your trip back home fun by playing music and singing while traveling. If you think your special child cannot handle the noise, put on him an earphone.
You can also play games in your car, like the " I spy " game where you take turns in saying something that you see around, for example, a red flower, and let the other family members guess where it is.
When you are already close to where you live, you can eat out in a restaurant so you don't have to prepare another meal at home because by then you will be very tired.
Then, putting away stuff is another hurdle to do. Try to keep all things in their proper places so when you need them again in your next camping trip, you know where to look for them.
Inspect all your stuff and clothing to make sure that you don't have ticks with you.
Remember, that weekend with your family including your special one is a precious event.
He will always cherish those times with you. Keep memories alive through pictures and videos.
Lastly, if possible, allot a day for rest and to put all stuff in proper places before you go back to work , so productivity in your workplace is not affected.
Till next camping!
Originally published: June 28, 2018                             Updated: April 1, 2023
Do you and your family love camping? Do you always bring your child with special needs? Not that hard, right? Please share your experiences with us.