Traveling is part of everyday life, especially if you have a special child who needs to go to doctor's appointments, physiotherapist visits, special school attendance, and even family gatherings or just to go to the park with cousins and friends or go with you to the mall. Of course a special needs stroller is so essential for these activities.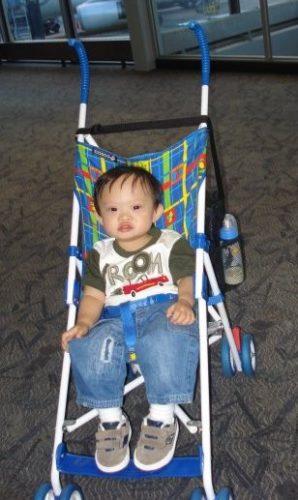 I have even seen some parents jog with their kids in their stroller. What an awesome sight!
Your special child could even go with the whole family to any fun travel or visits to an amazing place during summer or any holiday for that matter. I'm sure he would love to bond with everybody on these trips.
Thus, a special needs stroller, or an adaptive stroller, is a most essential companion for parents and caregivers for easy mobility.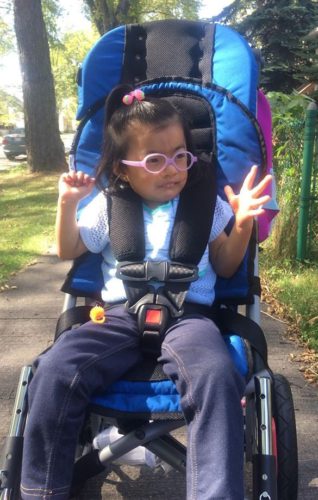 When planning to buy, what do you have to keep in mind? Is it the price? Durability, comfort, beauty?
Lots of reasons perhaps. So, what is the best special needs stroller out there? How do you choose one for your child?
Reasons for buying a stroller
1. Need–          Do you have frequent visits to doctors and therapists, or does your child go to school at least 3 times a week?
2. Comfort-    Is it the right fit for your kid for him to be comfy for long hours of sitting or lying down?
3. Price –          Do you want something that is not so pricey, anyway your child will outgrow the stroller soon or is it okay with you to pay more now, anyway he can use it for years to come?
4. Durability – Is your child on the heavy side or is older that something which will not wear out soon needs to be bought for him? Or you really prefer a stroller that would serve your kid for long term and grow with him?
5. Disability–   Is your child unable to walk at all or have stiff joints that prevent him to be moved easily to fit in the stroller?
When to buy
Foremost, you have to consider the need to decide when to purchase your stroller. Definitely, you will need one when you go out every week or even just twice a month for those appointments for your child.
You also have to consider that your kid will have mobility issues for some years because he will have delayed developments of some motor capabilities, like in children with Down syndrome, so deciding when to buy is critical.
Plan on the long term use so you can decide well on what to buy. Be open to the idea that your child will walk later than normal kids and when he learns to walk, it will take a while for him to have full balance.
If your child has disabilities that need to be addressed, consult your physiotherapist or rehabilitation doctor for proper advice on what type of adaptive stroller to buy.
Depending on where you live, some government health insurance may pay for these devices for your special child. Your private health insurance might be able to help as well. You just have to inquire, who knows you don't need your pocket at all or you might pay only partial of the whole amount.
This post contains affiliate links. Please read the full affiliate disclosure here.
Click here to look at varieties of adaptive strollers
Related post: How to travel with a stroller: ten best lightweight strollers for children with special needs
I am introducing 5 adaptive strollers for you to choose from. Of course, there are lots of choices out there but these 5, based on my research, are very useful for the kids with special needs. This review will somehow give you ideas when you are ready to buy one for your child.
Reviews on 5 strollers
1. MacLaren Major Elite Transport Chair
Its basic weight  is  7.7kg/16.9lb

It is ideal for children age 6 months and weighs up to 50kg/110lb.

When open, it measures:      L x W x H  92 x 53.5 x 108 cm; 36 x 21 x 42.5 in

If folded, it measures : L x W x H 115 x 27.5 x 22.5 cm ; 45 x 11 x 9 in

It has high-performance aluminum frame, ergonomically optimized




handles, full swiveling front       wheel and brakes on each rear wheel

This is available in

AMAZON
PROS:
This transport chair is ideal for both small and even big kids who are too heavy but unable to walk by themselves.

It is lightweight, sturdy, easy to open, and fits in the back of the car.

It runs smoothly on rough surfaces and is very easy to handle.

It is very comfortable and a kid will enjoy sitting in it.

The seat is wide and allows room to grow for a special needs child.

It is perfect for traveling, easy to fold and set, and super light to carry.

The swiveling front wheels make the stroller maneuverable in tight spaces.
CONS:
The foot rest has to be removed to close, thus, a hassle when traveling buy bus or train.

It has squeaky, loud wheels.

The front wheels don't spin easily on very smooth surfaces, like tiles in a mall.

The seat depth is a little too shallow, so little kids have a tendency to slide down.

One buyer's experience: The left steer wheel became very stiff and the stroller cannot be turned, and the wheel came off totally when he straightened it.

Amazon return policy is 4 months and MacLaren is 2 months, after which, they don't accept returns if they get broken.

Hood and lateral supports have to be bought separately.
2. Trotter Lightweight Adaptable Stroller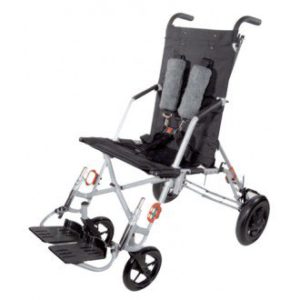 The dimension in its smallest size : 53 x 12.8 x 17.8 inches


The smallest size has a basic weight of 19 lbs ( 24 lbs with front rigging )

It is ideal for simple transportation because it has a lightweight folding frame with closure straps

The range of weight capacity is  75 to 250 lbs ( available in 4 sizes )
It comes with optional transit or school bus tie-downs, which is really good for school transport

PROS:
It has swing- away or removable foot rests for easy getting in and out.


It comes with 5-point harness to keep child safe and comfy.

Simple adjustments allow to grow with your child.

It has adjustable seat depth, depending on the size of your child.


It provides easy curbside navigation with tipping assist lever.
CONS:
There is a wide wheel base so when turning to left or right, the front wheel seems to get caught.

The chair is on the tall side, thus, not ideal for short kids.

It is quite bulky and heavy.

It is difficult to fold and unfold at first- you need a certain time to get used to it.

It is not easy to control on an uneven surface.


It has limited two year warranty
3. Special Tomato Special Needs Jogging Stroller
This is ideal for children up to 110 lbs


The lightweight aluminum frame allows it to be folded easily

When open, it measures  :     L x W x H 42″ x 26″ x 43″

If folded, it measures : L x W x H 33″ x 21″ x 16″

It is durable, thus ideal for long use


It has a reclining seat ( recline range 100 to 140 degrees ).

The stroller weighs -27 lbs
PROS
With 5-point harness to keep child safe and comfy

It is very comfortable for long trips.

The stroller for a jogging parent

It rolls really well ; the 12″ pneumatic tires works well both on smooth streets and rugged terrain

The front wheel can lock in place during jogging.
CONS
Basket under the stroller has to be bought separately

Takes a bit of space when folded up
Related post: How to travel with a stroller: ten best lightweight strollers for children with special needs
4. Wenzelite Trotter Mobility Rehab Stroller
The smallest ( size 12 ) weighs 3.06 kg while the biggest ( size 18 ) weighs 3.15 kg

It comes in 4 sizes from 12 to 18 inches

It is fitted with black removable and washable fabric

With lightweight folding frame and closure strap to hold the chair when it shuts down
Click the image or here to see the price
PROS
The seat depth can be adjusted to seat angle at 15 and 22 degrees and to back angle at 85,90, and 95 degrees.

With adjustable and removable independent swing-away footrests

Provides  more comfort with reversible padded strap covers in 5-point harness and positioning pelvic belt
CONS
Not very comfortable for a small parent-the handles are quite tall, stroller is huge and heavy 

Quite heavy for traveling

It is hard to navigate on an uneven surface such as in a park

It is wide for some doors to fit in
5. Baby Jogger Freedom Stroller with 16 in. Wheels
 The stroller weighs 30 pounds 

Product dimensions are 47 x 24.6 x 12.9 inches

Comes in navy color

It has a reclining seat and a padded seat back for comfort

With a 16 inch static wheel and swivel front wheels

It has a multi-position canopy with clear view window
Click the image or here to see the price
PROS
The handbrake comes with a parking button

The curved handle makes pushing comfortable

It comes with a quick folding design

The stroller is sturdy and suitable for big kids

With room to grow for your kids 

Can be also used for adults with special needs
CONS
When folded, the chair doesn't lock in place.

It is not so easy to push and guide on trails

The stroller is tall and the handle is high, thus,  not very comfortable for small parents
Is it time to buy?
Special needs strollers or the adaptive strollers are definitely a necessity for our special kids with mobility issues.
Your kids are able to walk probably at this point, but then they get tired easily with long walks.
For those with wheelchairs, you might still consider buying an adaptive stroller for them because wheelchairs are usually bulky and heavy.
My final word
Remember to always  consult your child's physiotherapist or rehabilitation doctor for advice as to what specific adaptive stroller will fit your child to address his mobility and disability needs.
After all, your child's comfort is foremost in your mind, as well as your need to consider your budget because these strollers are not on the cheap side.
Lastly, put inquiry to your health insurance, private or government,  if they will pay your mobility device. 
I'm sure with proper referral from your child's physiotherapist or doctor, his adaptive stroller will be reimbursed or paid directly by your insurance.

Click here to find more options for your adaptive strollers and devices
Have you used several adaptive strollers through the years? Did your child prefer one over the other? Please let us know your experiences in the comments below.
Would you like to start an online business? Learn how at Wealthy Affiliate. Join me inside and I will guide you. Click the image below.re you planning on putting up your website and not sure how to do it?
Please check out the Wealthy Affiliate University