Inside: Your party at home may be small, but having these fun activities for Thanksgiving, will bring joy to the family and teach your kids how to be appreciative of their blessings and to people who are helping them every day.
Thanksgiving is always a big celebration in our extended family. It is the well-attended event before another bustling party during the Christmas season. 
Cousins, young and old, are all agog to join the parlor games and get awesome prizes. Parents are busy days before, doing grocery shopping, and a few hours prior to the party, they scurry in the kitchen to prepare their dish just in time before everyone gathers at the table to devour the meal.
Until recently….
This COVID-19 pandemic stopped everyone to host and attend big gatherings and just stay put at home.
With the kids frustrated and bored in isolation on weekends and during online school days, and with Thanksgiving in a few weeks, how will your families celebrate and let your little ones, including your special child,  look forward with anticipation for the teeny-weeny party at home?
Encourage your children to join you in planning the activities so they forget the monotony and be stoked instead.
To make them feel important, let them decide on what to do, as well, choose the stuff that you need to buy. 
On Thanksgiving day, teach your kids and remind them to be grateful, day in and day out.
These 7 scientifically-proven benefits of gratitude will improve your life in general. If you pass on these lessons to them, your children will grow as positive, healthy members of the community.
Your little ones ( even you and older members of the family ) including your special child, will surely enjoy the following fun and easy activities. Simplicity is the key, happiness is the goal, and learning to be appreciative is the biggest reward.
1. Write thank you letters
Inspire your child to scribble letters of appreciation to people who have done nice deeds for him.
It could be for a caring mom who prepares his lunchbox daily with his favorite food, for his teacher who is so good at explaining lessons that are easy to understand, or to his best friend at school who makes him laugh with his corny jokes.
This will teach him to value uplifting attitudes and make him understand the importance of acknowledging positive values that he can emulate.
If your special child is unable to write or compose a letter, ask him what he wants to write about and to whom. You can make the letter and read it to him aloud after.
Listening to his letter will delight and amuse him. His heart will swell with pride knowing that he has something to give to that special person who has been so kind to him.
Grab a colorful construction paper like these to write the letter and put in an envelope like these to add excitement for your kid as he presents that letter.
You can even mail it in the post. Or scan and email it to the recipient. 
When this becomes a yearly tradition, as your child grows up, it will be a really memorable activity for him.
2. Say thanksgiving prayers
Before eating your Thanksgiving meal, let your family members say a thank you prayer to God for all the blessings and answered prayers.
Make each one say their top ten list of things or people or incidents that they are grateful for. 
You can tell them to jot these down the day or night before, so they are not caught off guard.
This will teach your kids to be always aware of their  blessings, be counting them instead of their woes, and not become a grumbling individual.
3. Play board games as a family
Educational board games should be handy. Start looking at your collections or buy new ones. 
Playing any board game with your child will build his trust with you. Likewise, this is also a great time to teach him about spelling, reading, counting and thinking logically.
Here are five awesome choices. Click the images to check the prices.
4. Watch a movie with a gratitude theme.
After a board game or two, grab a blanket and snuggle with your kids as you watch a movie together. Choose from any kids' movies on Netflix or you can buy DVD movies like these.
A Charlie Brown Thanksgiving 40th Anniversary Deluxe Edition (DVD)– a classic, which tells the fun and hilarious get-together of Charlie Brown and his friends for a big turkey party. Kids and grown ups will love this, plus, with a bonus story of the Mayflower Voyagers, the Pilgrims journey to the new world and their adventures.
Room on the Broom– a magical tale about friendship and family. The dragon wants to eat the witch? Find out how and why in this 26 minute film, based on the book of the same title.
5. Start a family gratitude journal
Thanksgiving day is the best time to start this family tradition. Especially amidst the COVID-19 pandemic, you and your family have a lot to be thankful for.
Writing down daily or weekly the good things that have been happening in your life and in your family is very therapeutic. Or even just occasionally, like on your birthday or during special occasions like Christmas, New Year, or Thanksgiving.
Let your kids start this good habit, even at a young age. They will realize that they are so blessed and they have to acknowledge that.
It could also be a prayer journal if your family is religious.
If you have started this years before, continue the tradition and let your kids write their notes themselves. Again, if your special child is unable to write or still very young, let him dictate to you what he wants to write about.
Buy your family's or your kids' journal here. or here.
6. Read books together, especially about gratitude
Related post: The Benefits of Reading Every Day ( Make Learning a Fun Experience for your Special Child )
Reading together is very educational and enhances your child-parent bonding. Especially if your special child is non-verbal or still unable to read on his own. Just sitting together or lying next to each other will bring comfort to both of you. Teaching him about spelling, letters, colors, numbers are added bonuses.
Make this reading session special by picking some awesome books about Thanksgiving and being grateful. You can read together when you are ready to hit the bed at night or during a nap after lunch.
Borrow books from your nearby library or buy new ones.
Click the images to see the price.
For some monthly excitement, you can start an Owl Post Books subscription here. Even if they don't arrive on Thanksgiving, there are forthcoming holidays throughout the year, like winter holidays, spring or summer break, or during regular weekends and daily at bedtime, where you can enjoy the books with your special child.
7. Color pages or books
For small kids or even adults, coloring is a fun and relaxing activity. It also stimulates their brains to be creative and artistic. If you have two or more kids, you could make this a contest as to who is the most creative, most colorful page, most tidy, etc.
Prepare coloring pages days before by searching on the internet.
Or you can buy some coloring books like these. Click the images to see the price.
Grab more kids' Thanksgiving coloring books here.
8. Do art activities
These fun projects will enhance your kids' creativity and their gross and fine motor skills. Aside from the excitement, your family develops powerful connections and effective teamwork among everyone.
Grab those materials listed below and click the links where you can follow the procedures.
Handprint family portrait
This is a true family activity with everybody participating from parents to kids.

Every year, if you repeat this activity on Thanksgiving day, you will be excited about how your kids' hands are growing up.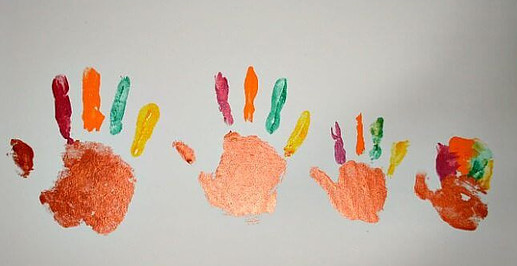 Learn the procedures at funlittles.com
Materials:
Glove turkeys
Your special child can help with painting the color in the gloves and he will be proud of this!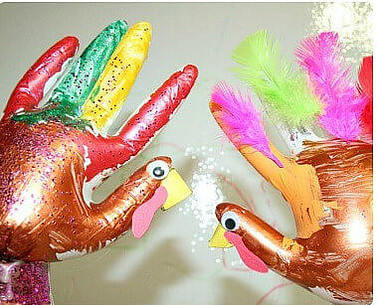 Materials:
Plastic Powder-Free Vinyl Gloves

Balloon Pump

Peel and Stick Wiggle Eyes

Y Construction Paper
Paper bag turkey
It's so cute and so easy to make!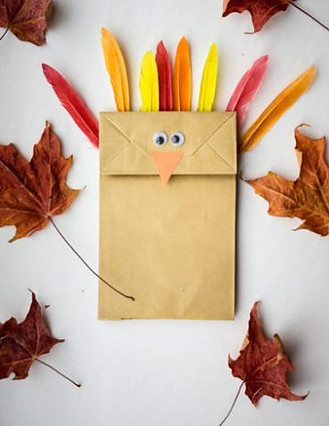 Materials :
Googly eyes

Construction Paper

Feathers

Paper Bag

Tacky Glue
Thankful tree
This activity will educate your kids on the virtue of gratitude and appreciation for family and friends who have been there for them and helped them one way or another.

As well as teach them to count their blessings, rather than complain of what is lacking in their lives.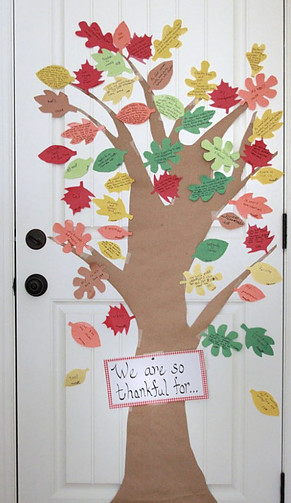 Learn the procedures at justthesevenofus.com
Materials:
Construction paper

Markers

Glue
Hey, my dear parents, If you would like to let your special child be excited with Craft subscription boxes every month, click this link to subscribe from Cratejoy!
Conclusion
Who said that because of the pandemic, with no Thanksgiving party to attend to, your kids and your family will be bored at home?
No way!
Just be creative, plan in advance, prepare your materials, buy them if you need to, and your Thanksgiving weekend will be a blast, just like in previous years.
If you have Zoom or messenger or any video call app, you can even say hi to your kids' grandparents and their cousins anywhere in the world.
You can even set up a group activity via zoom or messenger with their cousins, even his friends in school.
That way, they will feel like they are still attending your Thanksgiving party together, as extended families.
Happy Thanksgiving!
What activities during Thanksgiving does your special child enjoy every year?