About two months ago, I took care of my special needs niece, Alyanna for around six hours. Her dad went to work and her mom went somewhere else with her friend.
I also watched over her two siblings aged 12 and 10 and my other nephew who's also 10. They are older kids so they played on their own, I just reminded them to eat lunch and helped them decide what to eat and prepared their food on the table.
This is the first time that I took care of her for this long while she was sick and it was a real struggle for me. Along the way, I found a real solution, thus read on to learn what to do when your sick special child is so irritable.
In normal instances, Alyanna who is seven, with Cornelia de Lange Syndrome, but still non-verbal is not too hard to take care of. She usually has a good appetite and when she's full, I can just put her down and she can play by herself or I can lie down with her in the bed while she watches Nursery rhymes in my cellphone.
But not that day.
She was sick with cough and colds ( fever was gone ) for the past 8 days, been brought to the emergency three times ( the last two for blood work ) and was still so irritable and would prefer to be carried in my arms.
And she was so heavy that my back really complained. I'm not so young anymore and have chronic back pains, so this was quite a problem and added burden for me.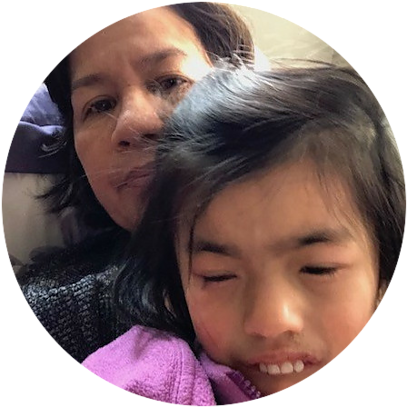 Read more about Alyanna and her parents here:
About Special Needs Fathers ( Meet three awesome dads! )
Luxury on Mother's day…Our Special Needs Moms deserve it
Non-verbal and Irritable
Because Alyanna cannot express herself, I didn't know if there's something hurting her or what was the reason why she felt so uncomfortable.
She just wanted to be carried but still kept on moving especially if I sat down. Thus, I had to put her down and she walked and moved around the house but still groaning, like complaining.
She had the tendency to pick up things and threw them away so I cannot let her walk around for long and I was also afraid she might trip on something and fall.
Poor sleep
For all those six hours or so that we were together, she looked so sleepy and would always close her eyes, but was able to sleep continuously for about half an hour only. I carried her and when I sat down, she would wake up.
I would let her lie down in her bed or the sofa but she didn't like it.
In between all these I tried to feed her and she would oblige and open her mouth in spite of her closing her eyes and wanting to sleep.
Rocking chair
They have this rocking chair in the corner of their living room. This was my saving grace. I sat on it several times when I felt my hurting back gave way to her heaviness.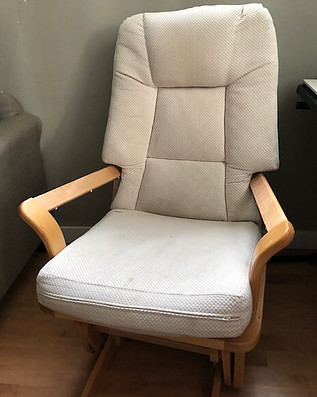 And then she fell asleep but only for half an hour. In my shoulders, while we were rocking on the chair.
For you special needs parents, or even parents of normal babies, a rocking chair like this is so helpful when your child is sick or just when you feel they're getting heavier to carry for a while.
I remember when my son was a baby, we also had a rocking chair that my mother-in-law lent to us, and it was really helpful especially when he got sick.
Or just sitting down with him in my lap when he was well.
I think the rocking motion would calm him and all babies for that matter. It promotes a restful sleep for them eventually.
Why is this so?
Rocking mimics the movement that a baby felt when he was still in his mother's womb.

Other tips on caring for your special sick child
Some screen time can help. If your special child feels comfy watching Nursery rhymes or any kids' shows, by all means let them indulge, but with time limits. This way, they will be entertained and would forget whatever discomfort they feel at the moment.

Keep them hydrated. Give lots of water, juices, soup or milk. Especially if they cry a lot, or don't have good appetite, the fluids will keep them going. Or if they have diarrhea and vomiting, give them more fluids with electrolytes.

Give medications on time. Drugs for fever, antibiotics or other prescribed medications need to be given on time for them to maximize their effectivity.

Allow them lots of rest and sleep. They will recover easily if you allow their body to recuperate. Thus, screen time is limited to thirty minutes or at most, one hour.

Bring your child to the doctor or the emergency if he looks weak and really sick with fast breathing and with fever. Kids have weak immunity so they get serious fast.

Give them food all the time. Even with poor appetite, as long as they don't have sore throat, they will be able to eat. Try to give small frequent feedings so they can still be given those nutrients that they need.

Keep them comfortable. Cover them with blankets to keep them warm.

Dress them up with light, comfortable clothes.

Keep them fresh with warm bath or rub them with wet towelettes and change with clean clothes before going to bed or when necessary.

Offer lots of fruits especially oranges or kiwi, because they are rich in Vitamin C and banana especially with poor appetite because it is easy to chew and will provide them with energy.
When to bring your child to Emergency or to his Pediatrician
Looks very weak- even unable to walk properly

Unable to sleep

Not eating at all or drinking enough fluids

Fast breathing and shortness of breath

Very irritable

High fever- sometimes with chills

Persistent diarrhea and vomiting

Having seizures

Very pale or with bluish lips and nail beds

With very dry lips and sunken eyeballs

Rashes all over

Extreme drowsiness or difficulty to stay awake

Green or yellowish mucus from the nose or with difficult frequent cough

Holds her head or neck as if it hurts

Sick for more than 3 days

Unable to take oral medications like Paracetamol for fever, either refuses it or vomits after ingestion.
Remember your child is playful and eats well with good sleep if he is not sick.
Don't wait until he is too sick before you bring him to the doctor or the emergency room.
You never know what illness your special child is suffering from.
Because they are non-verbal, they cannot tell you how they feel. Your observation is really important. As the parent who is there 24/7 to monitor your child, you know that he is not normal and suffering from something.
Pangga's Illness
I remember my sister, Pangga who had Down syndrome ( and for whom this website is dedicated ). She started to have poor appetite for a few days and later on she became slightly febrile and was noticed by my cousin who is a nurse to have fast breathing.
Although Pangga was verbal, she did not know how to communicate what she felt and never complained, she was just there in her bed lying all day and ate very little.
The doctor who saw her at home treated her with IV antibiotics for urinary tract infection. Later on, she was brought to the hospital because her tummy was noted to be increasing in size and did not pee for certain hours.
Eventually, Pangga was diagnosed to have severe abdominal infection due to ruptured appendicitis, had surgery but succumbed to generalized body infection and pneumonia a few days after surgery.
Too sad, but we just had to accept that it was all GOD's plan.
How to Prevent Your Special Child from getting Sick
It is so important for your special child to be always up and about, without any illness.
Of course, we cannot 100 percent prevent any illness, but at least if we can minimize it or if he gets sick, for just a few days would be okay and he just stays at home, the better.
So, what are the ways on how to prevent him from getting sick?
1. Update his immunization. Although they cannot prevent the occurrence of illness 100 percent, when they are immunized and get sick, it will be mild only and will be well in a short period. Complications are minimized as well.
2. Give him nutritious food all the time. More fruits and vegetables if possible. Avoid too many sweets, salty and oily food.
3. Let him have adequate rest and sleep for at least 8-10 hours a day, Let him sleep early at night.
4. Let him drink lots of fluids like water and juices ( limited sugar ).
5. Don't expose him to the crowd too much. Avoid public places for a long time.
6. Avoid too much exposure to sick people.
7. Some kids need vitamin C and multivitamins, especially if they are picky eaters to boost their immune system.
8. Wash their hands before and after eating and after letting them pee or poop.
Have a Rocking Chair at Home!
There you go, grab a ROCKING CHAIR here so you know what to do when your sick special child is so irritable.
Always remember your sick special child will feel calm and comfortable sitting on your lap with you in a rocking chair and sleep most of the time because he will feel that he is still in your womb.
When was the last time that your special child got sick and wouldn't want to be laid down in bed? What did you do?
Have you tried a rocking chair?