Starting next week for three weeks, our kids in school here in our city will have their spring break. Maybe in your area, your kids have started their spring break or school have been cancelled?
Fortunately or unfortunately, however you look at it, this extended school break is due to the scary COVID-19 pandemic., which has started to hit our place.
Our  kids for sure are happy and excited for this three weeks that they're off from school which will bring them lots of excitement, including our special kids. 
These are the weeks that they can sleep later than usual and wake up later as well.Three weeks of no homework, no time set for bedtime and waking up, nor studying for exams.
So, have you planned on how to enjoy spring break with your kids who will be out of school for three weeks? 
If you have vacation days, you might want to apply for vacation, too, so you have lots of time to bond as a family.
This is like mini-summer, even if it's only three weeks, if you plan to make the most of it, it's all worth it.
Skip the laundry and ignore the mess in your home. Just go and do fun things with your family and your special child.
There is no better time than bonding as a family by doing any or all of the following fun activities.
Just some reminders, because we don't want our kids and the whole family to be exposed and get infected with the Corona virus, please avoid crowded places and sanitize them as much as possible by letting them wash their hands all the time or use sanitizers.
And let them eat healthy food, have enough sleep and rest, so they are immune to any infection, for that matter.
 Although some of the activities listed below would involve going out, just limit your stay outside and try to have some distance with the crowd as much as possible and if you can put on masks that's better.
How to enjoy spring break…plan on doing any of these 10 activities to get the kids excited.
1. Go swimming
If you are stay at home parents, you can go to the pool and swim anytime, but if you are working, after-work would be fun  as well.


Aside from fun, swimming is a good exercise for everyone, too.
This post may contain affiliate links. Please read my Affiliate disclosure for more information.

2. Go to the library
This is the perfect time to head to the library and borrow lots of books and DVDs or CDs.
For kids who can read, they will enjoy reading book after book after book. If your special child cannot read, reading to him is the perfect bonding time for you both.
You can all read while in the library and read at home with the borrowed materials or watch the DVDs at home before bedtime.
Or you can buy these books online to stock up for your kids to read or for you to read to your special kid.
Click the images to see the price.

3. Watch movies
You can go to the cinema  as a family and eat out after the movie date.
But if budget is tight, watch old movies at home in Netflix or the YouTube or with the borrowed DVDs from the library.
Or you can buy cheap DVDs from the mall. You will enjoy just the same. As long as the family is together, that's all that matters.
4. Do cooking lessons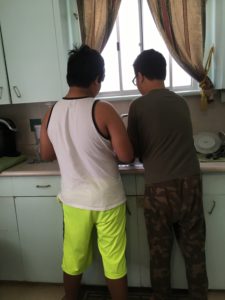 If your special child loves to eat, give him cooking lessons in your kitchen of the food that he likes to eat a lot.
Let him help prepare the ingredients and mix together the food in the frying pan. Start with simple recipes like make sunny side up eggs, make a hamburger patty, make a pizza from scratch, or bake cookies.

After cooking, let him help wash the dishes and clean up the mess in the table. This way, he learns how to be responsible.
5. Do art activities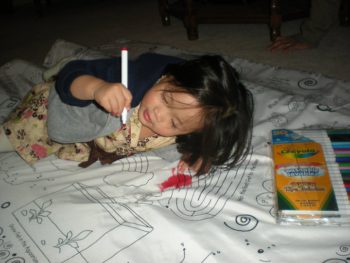 You can let your special child do some coloring or make some cards that you can give out later on  like for somebody's birthday, etc.
If your special child has talents in drawing or coloring, he will really enjoy this fun activity.
Or if he is not into art, this is the best time to introduce him to drawing and coloring.
Bring him to the dollar store and let him choose the art materials that he wants including the coloring books and crayons or colored markers if you don't have these at home.
If your special kid is a girl, she might want to do some crafts, like make necklaces or do some scrap booking.
6. Visit the grandparents
Now is the perfect time to go visit one of the most important people in your family. The grandparents will be delighted to see their grandchildren again.
They might have babysitted your special child when he was younger, and this week is the best time to catch up.
Bring some food so you can eat together as an extended family.
Or your kids might want to sleep over with their grandparents, then you can have "alone-time" as a couple.
Just a heads up, with the COVID-19 spread, just be sure that nobody has flu symptoms ( dry cough, fever, sore throat ) when you go visit them. Or else, just call them or do videocall or facetime to talk to them and update them of the kids' whereabouts or better still let the kids talk to them on the phone or in the videocall.
7. Invite cousins or friends for a sleep over
You can ask your kid's cousins or friends in your home for a sleep over and make them some popcorn while they watch movies or do some artwork. This is the time for them to catch up on the activities that they enjoy together.
Kids also like to tell stories about their experiences in school or with their other friends, so making them bond overnight would make them enjoy time together.
8. Go to the zoo or the museum
This free week maybe the best time to re-visit the zoo or the museum if these have been your activities during the summer.
I'm sure there will be lots of new displays in the museum or new animals in the zoo if you haven't been there for a while.
This is a great time for your kids especially your child with special needs to learn something new or to apply what he has learned in school.
9. Play in an indoor park
There is still snow outside and the park may still by muddy and have lots of puddles, so it will not be fun going to the outdoor playground.
So to pump the kids' energy, why not go to an indoor amusement park and let the kids run around, or let them go up and down the slides and other play structures.
Bring their cousins  or their friends along and while they are having fun, you can maybe go shopping if the park allows them to be left on their own or you can stay in their waiting area and read a book ( if you're alone )  or you can chat and catch up with your grown up cousins or friends ( parents of your kid's friends ).
After their play, I'm sure they are tired and hungry, so go to a restaurant where you  can all grab a pizza or anything that the kids love to eat, like hamburgers. This brings you all to the next activity.
10. Eat out as a family
I think this is the best activity that everybody looks forward to.
Of course this could be the final activity of the day if you have done an earlier activity, like playing in an indoor park or having gone swimming or watching a movie.
Whatever you have done earlier in the day, I'm sure everyone is tired and hungry, so a pizza or a hamburger or a pasta or even a full meal is very much welcome.
Just enjoy and have fun! 
You don't have to do everything listed above because your budget will burst and there's only a week to choose the best activity for the whole family. Especially if you will still be working during this time.
But of course, if you plan ahead, you can still do free activities like go to the library and borrow books and DVDs, go to the public pool on free days, etcetera.
Kids grow fast, so while they are still young and willing to go with you to fun places, grab these free days and just enjoy!
Before you know it, school days are starting again and next year, they maybe older and have their own set of friends and not willing to go anywhere with you anymore.
For your special child, these compression vests will help him focus and be more attentive and calm in school or anywhere. Click here to see the price.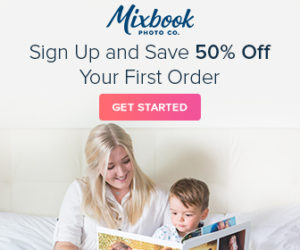 What specific activity does your special child enjoy the most?Which activities do your kids enjoy with your family?