Almost all schools require our special children to be potty trained for them to be accepted. Especially if the schools have no educational assistants and of course, the special education teachers can hardly accommodate your kids' " accidents," if they happen.  Thus, special needs parents face this big challenge of learning how to potty train their child with special needs before school starts.
For the parents of regular kids, potty training is not really difficult because kids usually show readiness as they age, which is usually from 18 months to three years old. Of course parents usually see resistance from the kids at first, but eventually they oblige happily.
It is different though for your special child who develops later compared to normal kids. Especially if they are non-verbal and communication will be a concern.
Is there a right age when to start potty training?
Because your child is special, you have to observe carefully if he shows signs of readiness. Of course, these signs show up later, and do not coincide with his chronological age.
Ask yourself these questions and when the answers are positive, then your special child is ready physically and psychologically to be started on potty training.
Therefore, the age when to start potty training varies from child to child. And will somehow depend on how they have developed physically and mentally at certain ages.
Physical Readiness
Does he stay dry throughout the night?

Is he dry at least for 1-2 hours at daytime?

Can he sit with or without support?

Can he keep his balance while squatting on the toilet bowl ?

Is he able to walk without support?
Psychological Readiness
Is your child able to understand instructions?

Can your child show in his face that he needs to poop or pee at certain times?

Can he control his urge when you tell him? Even partially?

Can your child know the difference between wet and dry?

Does he ask to be changed when soiled or wet either verbally if able or tries to get the clean diaper by himself?

Is he able to undress and dress himself, even partially?

Does he know when he needs to go to the bathroom? A non-verbal child may give out sounds that he is pushing.

Is there no added stress in the home like birth of a sibling or loss of one or both parents?
We all know that special kids develop much more slowly than kids their age, so you really need to observe how he is developing and responding to your cues.
Never rely on his chronological age so you won't be frustrated.
Bear in mind that they can be toilet-trained but much later than normal kids.
Reasons why special kids refuse toilet training
Even normal kids will refuse toilet training at some point at the start of the training. Or would sometimes regress after having been toilet-trained for a while.
More so for special kids, who might have a struggle with understanding the benefits. Or they might be having issues with the following:
Fear of sitting on the toilet or falling down

Sensory sensitivities

Startling experience of an automatic flush in a public washroom

Power struggles

Stressful life events like birth of a sibling, death or separation of parents

Poop withholding
Be very patient and understanding when your special one struggles with these issues.
It is really important that you give all the support that they need to overcome these challenges.
Once they feel comfortable and accepting of the training, it will be a breeze for both of you.
This post may contain affiliate links. Read the full affiliate disclosure here.
How to encourage your special child to continue with potty training
Scheduling their poop or pee time- Making them seat on their potty or on the toilet bowl after every meal or before going to bed. Or making them pee every one to two hours. They will learn that doing it at certain times will make them do it successfully each time.

Buying them the potty seat that they like or they enjoy.

Reading them a book about potty training to give them ideas on how to properly do it.

Letting them read a book or watch Nursery rhymes while they are seating on their potty. It will make them feel relaxed and focus on what they are reading or watching rather on how difficult they need to push.

Happiness jar– Fill a jar with chocolates, lollipops, small toys, or notes about their favorite activity like a trip to the zoo or to buy their favorite book when they use the potty daily for a week.

Celebrate in the evenings- when they stay dry during the day or they have used the potty successfully, celebrate by going to the park or do something that they enjoy before bedtime.

Make them pee before bedtime even if they still wear diapers so there's a greater chance of them staying dry the whole night. Or wake them up in the middle of the night to pee ( if it's also comfortable for you or you're still awake ) so he gets dry till morning.
What parents say about their experiences on potty training their special child
Diane on Nathan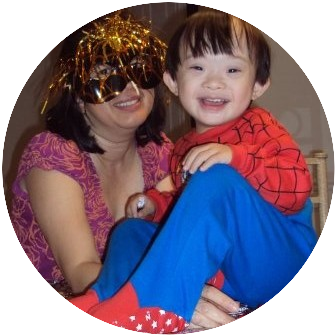 Diane has this to say about Nathan, who has Down syndrome and autism. He is now 13 years old and fully toilet trained.
" We started Nathan on potty training when he was still a baby; we would let him sit in the toilet bowl after every meal.
His dad would let him pee before bedtime, at midnight, and wakes him up at 6:00 AM before he goes to work.
We used positive reinforcement by giving him M&Ms when he was successful. He was really happy about this.
When he started school at 5 years old, he was still on diapers. At 7, he began to get upset with his diapers, so we did not put him on it anymore. He had few accidents at school ( twice at home ) then, so we would let him bring under wears and socks in his school bag.
He can hold his bladder now for a long time, even during travels. His dad usually brings him to the bathroom every 2-3 hours to let him pee.
Nathan doesn't want to poop in school, he usually does it at home at nighttime. So, when he's taking a long time in the bathroom, that means he's waiting for us to go in there and wash him."
Emerald on Hailey
Hailey who has Down syndrome and now 3 years and 9 months is just starting on potty training. She sits on her potty but still refuses to pee or poop there.
As of now, Emerald observes that Hailey can follow simple instructions like if she wants her milk, she will say "dede," and her mom would ask her to get the bottle and she will follow.
She still wears diapers all day, but tells her mom if she's done peeing or pooping. Her mom will try to use the rewards system to encourage Hailey to learn.
Lee on Mark
Another Down syndrome kid, Mark, who is now 11 years old but still non-verbal, is only partially trained.
Lee, his mom, started potty training him when he was around 5 years old .
They would let him sit in the toilet bowl after breakfast and dinner to poop.
At least every hour, they would let him pee in the toilet as well.
Mark was dry at night at around 7 years old and did not want to wear diapers anymore.
He goes to school without diapers now, but still would have accidents. At home, he would just pee anywhere. Likewise, he never goes to the bathroom on his own.
Check out these books on potty training. Click the images to see the price.
Patience and determination brings success
It takes lots of patience, understanding and motivation to stay focused and determined to make toilet training successful.
Just remember that like your special child's development, toilet training likewise takes awhile to be a success.
Count every day and his small wins and reward him and yourself for these little accomplishments.
He will eventually refuse to wear his diapers and will be happy to sit on his potty or the toilet bowl to do his thing.
And you will both dance with joy once he does it on his own, every day, every time.
Related post: Nine best potty training toilet seats….choose what your special child will love to use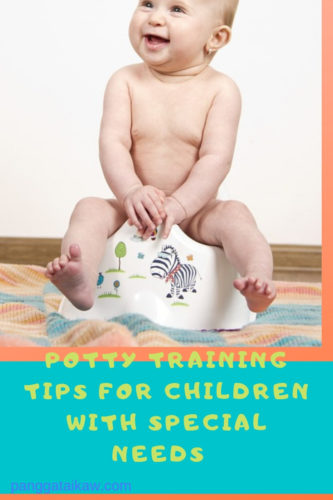 Have you started to potty train your special child? Do you have any tips that you could share other special needs parents?