Like all children, our special kids  love to have fun. Hearing their giggles and laughter uplifts us- parents, caregivers, and even their teachers. Choosing toys special needs children will love should be prioritized, especially if they are recommended by therapists.
Playing the right toys, aside from giving them fun, promotes the enhancement of social skills and development of their imagination and creativity, as well as improvement of their fine and gross motor skills.
More so, learning the basic concepts like colors, shapes and numbers would be benefits, as well.


This post contains affiliate links. Please read the full Affiliate Disclosure here for more information.
Let us look at some of these toys, shall we?
Toys that promote learning
I recently read a post from a behavior analyst who said that her daily life consists of treating children with autism spectrum disorders and when she gets home, she implements similar practices with her own children. She uses the same toys for the same reasons.


She believes that all kids want to have fun while they are learning.
Thus, parents need to find developmentally appropriate toys for their kids, whether special or not, to create opportunities for learning while playing.
For our special kids though, because they have delayed mental development, we have to choose toys which are recommended below their chronological age.
We have to consider their mental development. For example, a 10-year-old child with Down syndrome with a mental age of 4-5 years, would enjoy playing a toy for a 5-year old, because a toy for a 10-year-old might be too advanced for him. Toys about numbers for a 5-year old would be identification only of the numbers, or simple counting, but toys for a 10-year-old would be involved with addition, subtraction, or easy multiplication and division.
Here are some toys that experts suggest
1.Melissa & Doug K's Kids Match and Build Soft BLOCKS SET ( click the image to see the price )
These blocks are washable, soft and lightweight, thus ideal for babies, toddlers and older kids with special needs, for easy manipulation and lifting.

Kids will learn to identify numbers, animals, and shapes.

Skills that they develop include sensory, fine motor, logical, creative, linguistic, communication, and self-esteem.
2. PUZZLES ( click the image to see the price )
Our special kids need big puzzles which are extra thick and with large knobs for easier grip.

These puzzles enhance their imagination and creativity.

Because of delayed mental development, our special kids need to play with simple puzzles so their minds can solve easy problems of identifying shapes and images.

Playing with puzzles also develop their fine motor skills, socialization and hand-eye coordination.
3. SPEAK TO ME ( click the image to see the price )
For kids with autism, toys that promote interaction like this laptop, that encourages a verbal reply when they push a button, are suitable.

Various categories include letters, numbers, farm animals and musical instruments.

The games within also enhances imagination, creativity and develops intelligence.
Toys that calm anxiety and improve behavior
Children with emotional and behavioral disorders like ADHD and Autism, need to balance fun and calm their anxiety while playing or just sitting down, maybe in a doctor's office waiting impatiently for his turn.
Usually, they thrive on holding on to something familiar to them like a favorite toy or a calming thing like a pillow.
1. SENSORY RING and FIDGET TOY ( Click the image to see the price )
These soft, flexible rings and rubber spikes reduce stress and anxiety by providing tactile stimulation to calm a racing mind and to bring restless hands busy with something, while doing writing in school or at home.

If your kids have short attention span, these bracelets sensory toys bring focus, attention and relaxation, so they are more attentive in school or even at home while doing homework.
2. SOOTHING RAIN TUBE ( Click the image to see the price )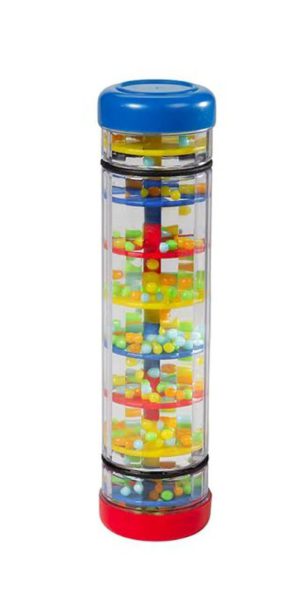 It is perfect for highly visual kids.

When this 8-inch tube is turned over, a cascade of multi-colored beads fall that creates a soothing sound of rain

It diverts attention from meltdowns and encourages self-soothing.

The tube can also be shaken or rolled over for more sensory fun!
3. TRANQUIL TURTLE or FROG ( Click the image to buy )
The soft lights and comforting sound that create a calming underwater effect helps the kids to relax and have a good sleep.

Kids are soothed by the visual effects which with the press of a button, the awesome underwater effects ( waves ) are projected to the ceiling.

The brightness of the light can be easily adjusted.

It needs 3 AA batteries and has automatic shut off feature if your child has fallen  asleep.
Toys that Improve Kids' Fine and Gross Motor Skills
1. GYMNIC HOP BALL ( click the image to see the price )

These hop balls are made of heavy-duty yet soft vinyl latex-free material for long-lasting use.

Inflation by a hand or foot pump needs to be done by grown-ups.

They are great for exercise indoors and outdoors on smooth surfaces.

Our special kids will develop their body coordination, balance, and lymph circulation .

They come with a hand grip safety handle.
2. MAGNETIC NUMBER MAZE ( click the image to see the price )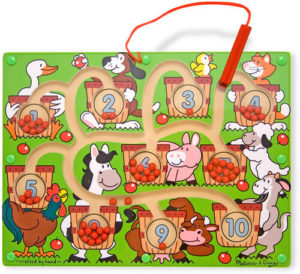 Your special child will enjoy and develop fine motor skills as he guides little red balls with a magnetic pole.

It develops small muscles in the child's hand to be able to hold the pencil properly for better writing skills.

This is also a learning tool for numbers  and counting.

Hand-eye coordination is also developed as the child guides the balls.
3. CRASH PAD ( click the image to see the price )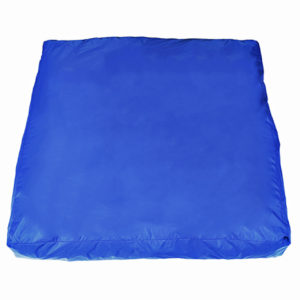 It is filled with a long lasting foam with heavy duty stitching, thus a  safe place for special kids to calm down and relax by sitting or lying down.

Children will enjoy crashing, jumping, exploring or cuddling, thus developing their gross motor skills and balance.

It can be used with a weighted blanket to provide relaxation and comfort.

Suitable for kids up to 150 pounds
Parents and caregivers must play with their kids
Your presence in your special child's activities will help him a lot to improve his social and cognitive skills.
Deep trust in you will be developed as well, as you regularly play with your special child.
Likewise, while playing with him, you are able to observe your child up close on how he interacts and how fast he is learning.
Remember, playing is the best form of bonding for you and your kid.

You will both have fun and it will be a stress reliever for you, too. 
Playtime with a partner needs to be encouraged
There are various benefits if your special child is allowed to play with you and others.
As much as possible, expose your child to a playmate to promote engagement and interaction.
Various studies recently have shown that interactive experiences actually change the physical structure of the brain.
"We now have evidence from neuro-imaging studies (e.g., MRI, PET, and SPECT scans) that new neuro-pathways are created and connections among neurons are enhanced when the brain is stimulated," explains Dr. Ron Savage, Executive Vice President of the North American Brain Injury Society and expert on neuro-developmental disabilities.
Based on these studies, special needs products and toys are made to improve motor skills, mobility, sensory processing and communication skills.
These specialized items can help children enhance their basic abilities while also soothing their anxiety and improving behavior.
Playtime provides

both

fun and opportunity for learning

Play therefore, is the best stimulation for children, especially when children are enjoying their toys and games, and parents and caregivers are devoted to helping them learn.
Studies have proven that loving relationships, meaningful toys, and time engaging in play together are the best ways to open avenues for our special kids to grow up and be the best that they can be.
So my dear parents and caregivers, please choose wisely toys special needs children will love and recommended by experts.
It will be remarkable to witness the joy of your child while playing and in turn, his brain is stimulated to develop with added neurons for more wisdom.
Originally published: July 30, 2018                          Updated: June 4, 2020
How do you choose toys for your special child? Do you observe that your kid learns while having fun? What is his favorite toy?
I learned how to build this website at Wealthy Affiliate!  Join me inside and learn with me and all like-minded entrepreneurs. Click the image below to join for free.