She became a Special Education ( SPED ) teacher by chance. Wanting to raise her family far from the hustle and  bustle of the city, Teacher FAM  planned on moving to a new school in the province. The school that took her in had a spot for a Special Education teacher due to increased enrolment of  kids with special needs. Without hesitation, she accepted the offer and took the challenge of teaching kids with special needs. 
Pretty soon, she delved on scholarship training to become certified as a SPED teacher .
For the past five years, she felt that teaching kids with special needs is her calling. Definitely, she took the chance, and loving it.
Teacher FAM  maybe new in this special field, even in the teaching profession in general, having served for eight years only, but deep inside, her heart tells her that this is for her and probably for keeps.
What a nice revelation!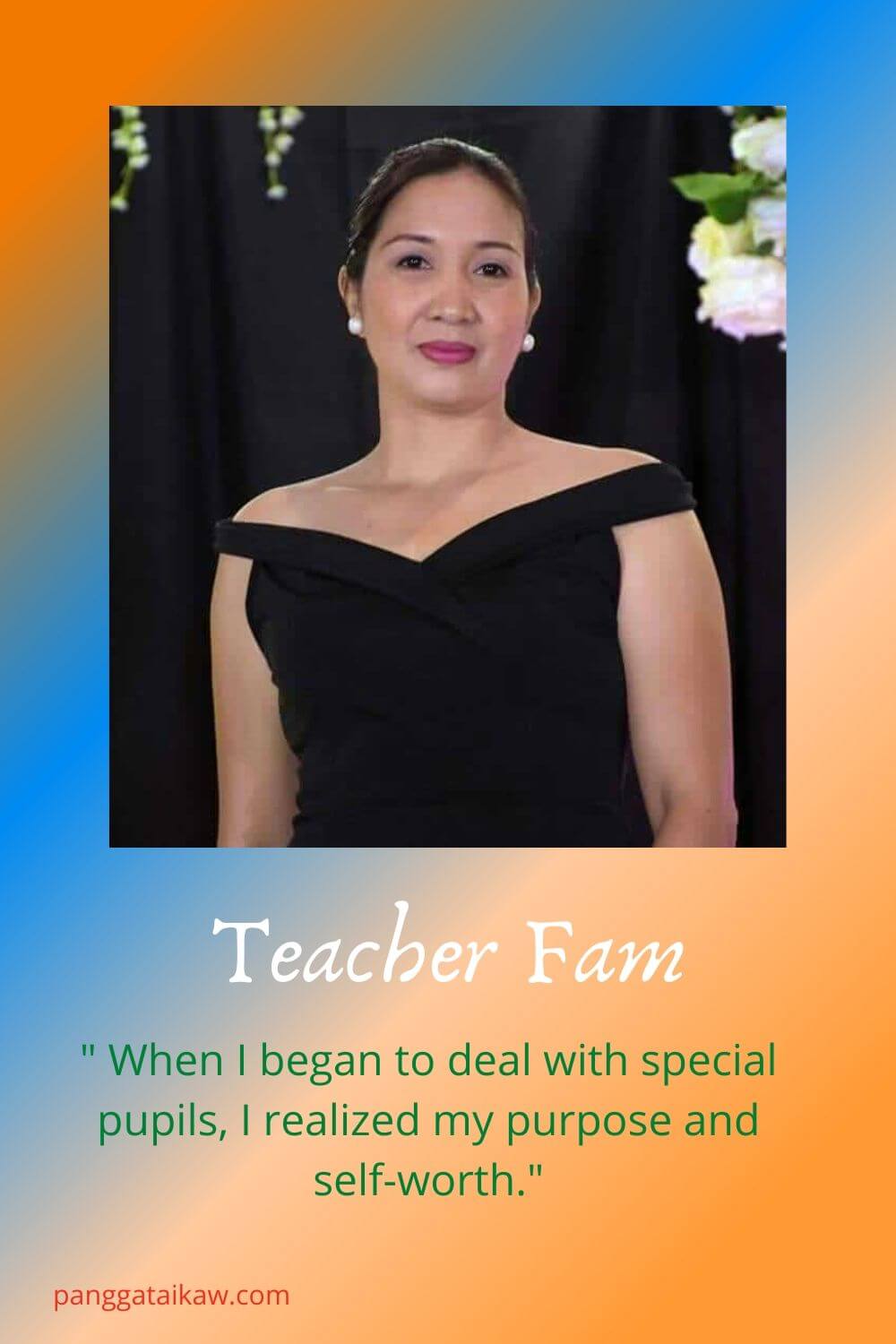 What group of special kids are you handling?
"I teach kids with emotional and behavioural disorder, as well as those with  intellectual and learning disability and Down syndrome."
Why did you  become a SPED teacher?
"I did not plan on becoming a Special Education teacher. I just took an offer when I moved to a new school. When I began to deal  with my special pupils, I realized my purpose and self-worth.

Gradually, I fell in love with my new pursuit and my passion and love to my pupils grew each day. I became more patient with them and more determined to make a difference in their lives.

I believe GOD gave me this opportunity so I can understand well my niece who is diagnosed with autism spectrum disorder."
Can you describe your typical day?
"I teach my pupils,  2 at a time for 3 hours . We usually start our class with a prayer, greets to one another and songs. Before we begin the lesson for the day, I ask simple questions like how they are, what they ate for breakfast and what they did before coming to school.

Then, I let them do the daily living skills like mopping the floor, dusting the desks and tables, watering the plants, washing the glasses and plates and washing some handtowels. Letting them do these household chores will develop in them the values of independence  and responsibility.

Our lessons are usually from Monday to Thursday only. On Fridays, they all come together at the same time for play, crafts, zumba class, educational cartoon movies and sometimes, they cook a full meal for themselves, which includes simple dishes like rice, egg and meatloaf."
How do you face struggles and challenges in teaching special kids?
"Thinking of strategies to motivate the kids to learn the lessons and remember them is a big challenge for me. Many times, I feel it's  a struggle for me to see that because of the  kids' intellectual disabilities, they find it hard to retain what I teach them, thus they forget the lessons easily, so I have to look on their capabilities and conceptualize the proper approach for them to respond positively.

I always have to be patient and repeat the lessons all over again. I believe constant repetition do improve their learning abilities..

Practice makes perfect,  so the saying goes."
Any strategies in handling a very difficult child?
"This is not an issue for me because I love what I'm doing. I learned in my training how to handle these kids and through the years I have developed passion and devotion  to my career.

It makes me feel fulfilled  and  rewarded to realize that I'm making a big difference in the lives of these children with special needs. It may take long for them to acquire knowledge, but with patience and perseverance, they will eventually learn something and I feel great knowing that I did my best in motivating them to improve their intellectual disabilities."
How do you involve the parents in teaching their children?
" Involving parents and guardians in teaching their kids is very important. They play a big role in implementing home instructions . I encourage them to observe their kids at home if they follow my suggestions because this gauges  improvement of their children.

My pupils have a journal where  I write down my observations, recommendations and home instructions. I emphasize to the parents that teaching their children is a collaborative effort. They have to read the journals for them to see what assignments their kids need to submit and they should assist them."
This post contains affiliate links. We might earn a commission when you purchase or sign up to something. Your fees are not at all affected.
How do you feel at the end of a school day?
" I feel great and happy because I know that everyday I impart knowledge to my special kids to prepare them to become productive members of society.

There is a sense of fulfillment seeing them become independent. Also, I'm hopeful that by helping them improve their academic skills, I  am preparing them to be mainstreamed in regular school  to graduate someday."
Any advise/s to those who want to pursue a career as a Special Education teacher?
" Teaching Special Education is not an easy job. It takes a lot of effort and patience to understand children with special needs. You have to always look first at the student's interest and gain their trust and confidence, so you will get their attention.

It is vital to provide motivation everyday in whatever level of curriculum they are in. No two students are alike. They have their own level of capability when they start with you.
Assess each child thoroughly, so you will discover their unique abilities and needs, and from there, you conceptualize your individual approach for a particular kid .

Most importantly, love them with all your heart and be compassionate.
At the end of the day, you will always feel loved back and it's very heartwarming. Then you can say, this is really my calling."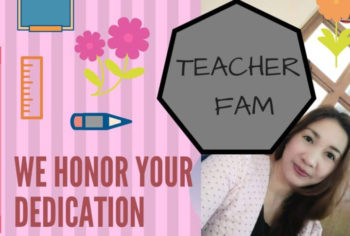 Teaching kids with special needs is indeed a calling!
There you go, even if we don't plan on our careers, we can always be the best on any endeavor as long as we learn to embrace the opportunities presented to us. 
Teacher FAM maybe a new  mentor in the  field of teaching kids with special needs, but because she has been open to the challenges that she faces everyday, she has learned to LOVE her demanding career.
We salute you teacher FAM for wholeheartedly accepting the challenge.
May your tribe increase!
This post contains affiliate links. Read the full Affiliate disclosure here.
Do you know an awesome Special Education teacher? Please share us his/her story. We would love to hear from you. 
If you are a SPED teacher, thank you for all the work that you do. Please connect with us so we can let our readers know about how passionate you are with your craft.
Please post your comments below.
Originally published: May 15, 2018                       Updated: May 18, 2020
Therapist pick for your special kids. Click on the image to see the price.