Inside: Learn how a big sister enjoys having her autistic brother around and cares for him with so much love.
They did not start as good friends when they were younger, but eventually developed a strong bond when they moved to a new place.
Here goes their story.
Bonding with Andreu
By Ysabel Castillo
I was singing a song from a band that I really love and I went like, "I'm so sick of this…," then Andreu followed with, "Fake love!" and that's actually the lyrics of the song. I was surprised that he even knew it.
My name is Ysabel and I'm the second-older sister of Andreu, my 7-year-old brother with Autism. I'm 12 and in Grade 7. We have an older sister, named Phoebe.
Back in Singapore, where we used to live, my brother and I did not interact well. All I did was annoy him and we didn't really have that many fun moments. Andreu was kind of scared of me because I would get pissed off at him whenever he disturbed me.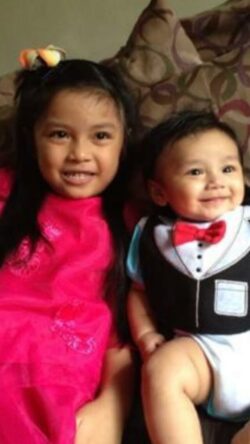 Our nanny Nals, who was with him most of the time, took care of him, and they really bonded well.
Moving to a new place was a challenge
When we moved to Canada, our maid did not come with us, it was just me and my family. It was difficult for all of us to start a new life, in a completely different place, but we became closer.
My sister was in charge of the chores, while I was assigned to take care of my brother, who was six at that time.
I had to bathe him, wash his butt whenever he pooped, changed his clothes for school, and oh, I so missed our maid while doing these.
At first, I never thought of caring for my brother as a big deal, since Nals would do it all with ease, she would take care of Andreu, clean the whole house, and even do the family's laundry without complaining. I really appreciated our maid, for all that she did for us.
Yes, the tasks were exhausting, but they made me more responsible.
Gradually, Andreu and I bonded well as siblings. We started to play with each other, including the two other girls whom we lived with initially. We would play tag inside or outside the house or just watch YouTube videos together.
My brother is different, but we do connect
When he was four, I realized that Andreu is not like any other boy his age.
He still couldn't speak, did not make friends easily, and spoke gibberish. He couldn't control himself, acted the way he wanted, and didn't care if he cried really loud in a public place.
His way of learning is not typical and you need to be patient with him.
He's just an innocent child who can't tell right from wrong. There's no use in being mad with him, he just doesn't get it.
I started to understand my brother better and we became even closer to each other.
He makes me smile even in the littlest ways, whenever he makes mistakes or just talks or sings. Andreu would make up random actions that I would imitate and this made him so happy.
We understand and enjoy each other. I would sing, he would listen and do actions. Whenever I dance to a song that he knows, he would just watch me with the moves that I make.
I always ask for hugs or kisses on the cheek from Andreu because he is such a great hugger! He's so cute too!
One time when I was arguing with my Mom, I heard Andreu say, "Nooooo" while looking at my mom, because he wanted her to stop the squabble. It made me smile on the inside.
Related post: How to Support a Child with Autism
I get mad whenever someone judges my brother for the way he is. People just can't understand sometimes. If only they could just see that they could actually communicate with him because he could make them smile and feel good.
Usually, people get scared whenever they approach somebody with special needs. I get that but they're just like us, only with a different mindset because their brain works in a peculiar way.
Some people even make fun of them, and they're literally innocent. Oh, well.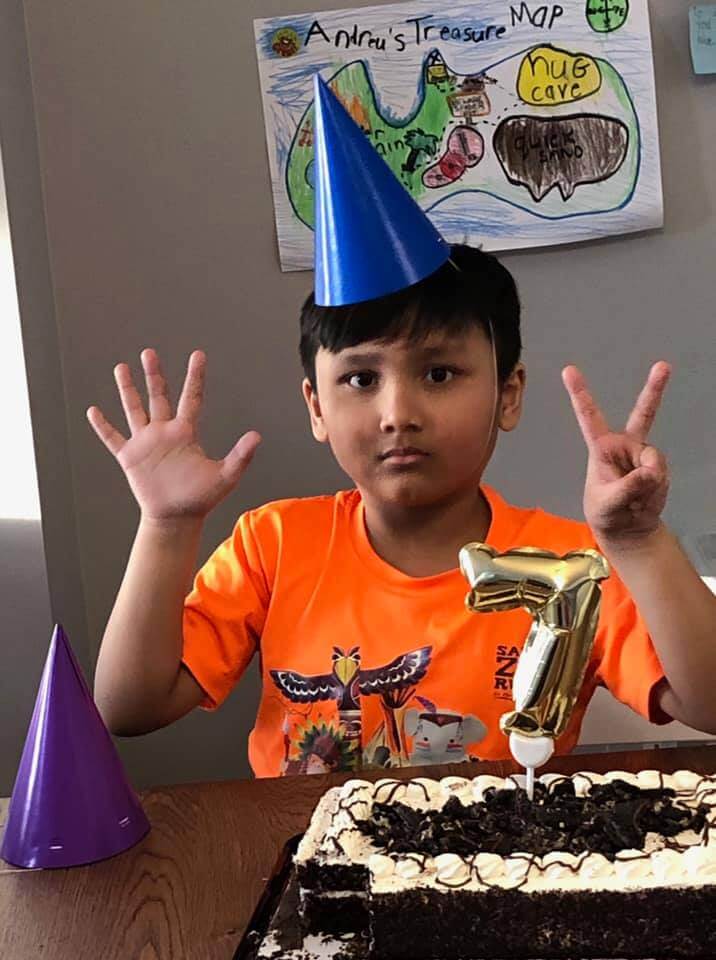 What Andreu is like
For me and my family, Andreu is just a big baby, he's so lovable and makes me cheerful all the time, even when he's not trying to be humorous.
He loves Trains and Cereal, like literally, that's all he watches. Whenever I let him use my phone and get it back, my search history is full of Cereal and Trains.
It makes me feel proud whenever he joins the family for dinner because I believe he's slowly adapting to his environment. But he spends a quarter of his day asking for chicken and rice, and it's getting out of hand now.
Andreu likes certain types of food, he won't just eat the food that you give him. If he's not familiar with it, he won't consume it at all.
He gets mesmerized by lights, such that when the Christmas lights were turned on for the first time, he got so amazed and the same goes for my LED lights.
From what I see, Andreu likes puzzles and he attaches the pieces together, but the thing is, they never match the actual picture. I mean I don't blame him, I'm bad at puzzles too.
My brother likes anything that has a liquid and solid substance, like slime or goo for example. He could play with it for hours and forgets to watch TV, but he gets the slime all over the carpet so that's why now, we don't store slime. Even if I did have slime, I would definitely hide it from him.
If I have to describe Andreu's personality, I would say he's a boy who is funny, resilient yet lazy, fun, and smart.
He has a really good memory, he can recall almost all the train stations in Singapore that I myself can't.
Andreu and I don't really engage in full conversations, but we do have "interactions."
Actually, he's really fun to talk to. Whenever I say, "Cereal" or "MRT" which stands for Mass Rapid Transport or other words that he's familiar with, I can get his attention right away.
Same thing with my whole family and friends who really know him and try to communicate with him. We all agree, my brother can connect with everyone.
What we enjoy doing together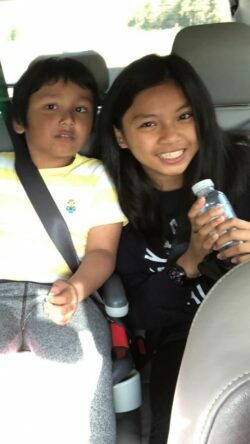 I used to read stories with him, but he would get all fed up and rush through the book so that he could watch TV.
Most of the time, Andreu is in the basement watching the tube, while standing on the carpet. Meanwhile, I lie down using my Chromebook or my phone, it's way easier to take care of him that way.
Every summer, I would go to the playground with him, but he would just go barefoot on the small rocks and lay down there for 30 minutes, or be on the slide doing nothing.
Most of the time, I like to play tag with him because he giggles a lot, but he's so fast. I can't even catch him even though I have way longer legs than him, it's so disappointing. But I really like it when he gets playful and it's so fun to run after him, I even turn off my phone just to engage with him because it's so amusing.
To be honest, I really like to bug him off because it actually makes me laugh when I see him trying to make me mad, especially at night.
There was one time though when he pulled my hair while he was sleeping and it really hurt. I wanted to scream but it was 2 AM. Andreu is surprisingly strong, he could probably carry things I couldn't grab.
I would do tricks on my tongue and my brother would get mesmerized and start touching my tongue because he finds it amazing, but that's kinda gross.
He has two moles on his arm and I would pinch in the middle so that it would look like an elephant and Andreu would always chuckle with that.
I love making him smile and laugh, but I really like to bug him off, I don't know why but it's entertaining seeing him get all riled up!
At bedtime, we watch slime videos, it calms him down or keeps him entertained. He really likes slime, I do too because it's satisfying and nice to play with when you're stressed or bored.
One time, I watched something scary online and I wasn't able to sleep properly for some time, and when Andreu started sharing my bed, I slept for 10 hours! He would hug me in the middle of the night and I found that so cute!
Related post: Big Sister, Little Brother ( He has Down Syndrome and Autism )
How my brother brings joy to our family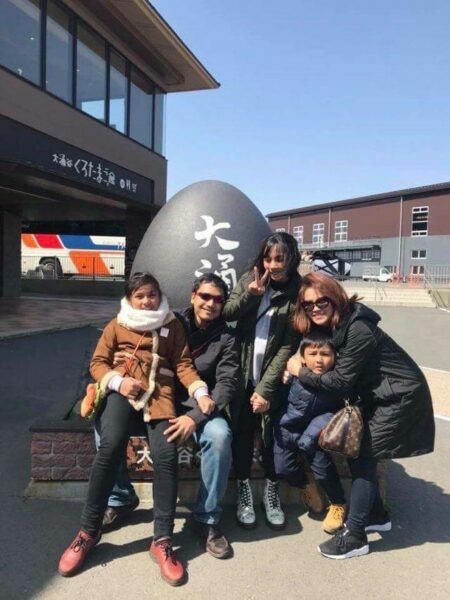 Even though Andreu can't make jokes, what he does and says are naturally funny, thus, he brings lots of laughter to our home.
I'm really thankful God gave him to us. If he wasn't here, I think we wouldn't have that many hilarious moments, and our house would be so quiet.
I think we wouldn't even be in Canada if it wasn't for my bother, to be honest.
My real feelings for Andreu
Our bonding journey has been challenging and still is. There are ups and downs, laughter, and madness, but it is overall a great experience and I will never trade my moments with him for anything.
One thing that I don't like about Andreu is that he frequently asks for toy trucks or whatsoever toys, then once we buy it, he plays with it for like 5 days then he ignores it altogether. It's such a waste of money!
Once he asks for a toy, he gets it.
I wish life is that easy for me, like his. My brother is genuinely blessed, everyone loves him and I bet he almost never worries or stresses about anything!
On the other hand, I am kind of anxious every day, it's becoming a habit now.
What I hope for my brother
I really wish Andreu to have more friends and that he'll be able to speak and act like a regular kid.
I believe that time will come, and we just have to wait.
He did have one friend in Singapore but they don't talk anymore due to the distance.
I'm really grateful God brought him into our family. I hope and will always try to have more bonding moments with him.
I do love him, that's for sure.
And that song that I used to sing when we were younger ( Singapore days ), he still belts it out with me. " Fake love. " He still fondly remembers.